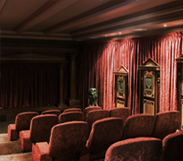 The Orient has one of the most opulent private cinemas in Pretoria and Johannesburg. Seating only 20 people, this impressive, luxurious and spacious venue has rich burgundy carpets; velvet, curtain-draped walls and plush upholstered seating. The Petit Alhambra can play host to a wide range of events, including screenings, product launches, corporate presentations, photo shoots and even weddings. The venue also has its own regular cinema club, which shows a variety of genres, from cult to classic films from around the world.
The Petit Alhambra is a unique space available for private hire that lends itself to a range of functions. From press launches to conferences, The Orient Hotel's Petit Alhambra has the ideal surroundings, technology, and service to accommodate all needs.
Numbers: 20 People
Private Cinema Hire
Private cinema hire makes for an extremely elegant and unique corporate event. The Petit Alhambra's stylish opulence and comfortable seats hark back to an era long forgotten by the average cinemagoer.
The Orient has a list of films available on request; from old classics to the latest releases, we cater to all tastes. It is also possible for us to order special films in from our distributors, however this will need to be arranged in advance.