Mille-Feuille of Tilapia
& Ratatouille
with sweet basil cream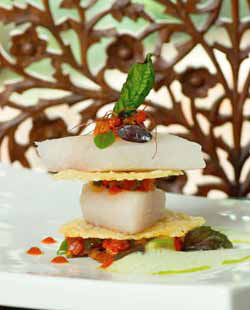 Ratatouille
½ each red, green and yellow bell peppers, washed and
diced
1 medium eggplant (brinjal), as above
2 medium courgettes, as above
3 tbsp Napolitana Sauce
Maldon sea salt and pepper
Parmesan tuilles
150g Parmesan Reggiano cheese
baking parchment
Basil cream sauce
50g fresh basil leaves
300ml fresh single cream
seasoning to taste
Tilapia fillets
4 x 100g fresh tilapia fillets or sea bream, filleted
(most thin fillets of white fish are suitable)
olive oil
Maldon sea salt and pepper
Lemon juice
Ratatouille
Heat olive oil in a frying pan over a medium heat. Add
the diced peppers and eggplant, stirring well to coat with
oil. Stir the contents frequently. Once the eggplant has
softened a little (5 minutes) add the diced courgette.
Finally, add the Napolitana sauce and cook for 2 more
minutes. Add Maldon sea salt and pepper to taste.
Reserve until needed.
Parmesan tuilles
Pre-heat oven to 170˚C. Place baking paper on baking
tray. Use a round pastry cutter and sprinkle a thin layer
of the grated Parmesan inside, to form a round disc.
Remove cutter. Repeat until you have 8 thin Parmesan
rounds. Leave sufficient space between each disc for
spreading while baking. Bake the tuilles for about 3-5
minutes until the cheese starts to bubble all over and turn
crisp and golden. Remove tuilles from oven and leave to
cool until needed. Reserve at room temperature.
Basil cream sauce
In a pan over low/medium heat, gently simmer the cream
with half of the basil leaves and reduce the cream until
only half the quantity remains. Blitz the remaining basil
leaves in a food processor or hand blender. Strain the hot
cream through a sieve into the blender, removing basil
leaves, and blend until the cream turns bright green.
Adjust seasoning with Maldon sea salt and pepper. You
can strain through a sieve once more before serving if
you choose. This sauce is best made immediately before
serving but can be gently reheated. The sauce should be
quite thick and coat the back of a spoon.
Fish preparation
Ask your fishmonger to filet the fish. Cut each fillet into
smaller fillets (2 per portion). Cover with clingfilm and
reserve in the fridge. (This fillets of white fish such
as kingklip, dorado, kabeljou and red mullet are also
suitable for this recipe.)
To serve
Warm the plates. Heat a frying pan over high heat then
place the oiled, seasoned fish fillets in the pan. Sear on
both sides until cooked but still moist. Remove the fish
from the pan and squeeze a little lemon juice on just
before serving. From the mille-feuille (stack) a in photo.
Spoon the basil sauce around just before serving. Serve
immediately.