Day Lilly with Ratatouille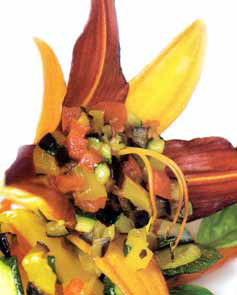 1 freshly picked day lilly
65ml olive oil
2 onions, brunoise (small dice)
3 bell peppers, brunoise (try different colours)
2 eggplant, brunoiuse
2 zucchini, brunoiuse
4 cloves garlic, minced or crushed
2 tomatoes, brunoise
15ml fresh thyme, finely chopped
salt and freshly ground black pepper
65ml fresh basil
1. Heat the olive oil in a heavy-based pot over a medium heat, then add the onions.
2. While the onions cook gently, finely die the bell peppers and add them to the pot, stirring well.
3. Dice the eggplants and add to the pot, stirring well to coat the eggplant with oil. At this point all the olive oil will have soaked into the eggplant, so stir often to prevent burning.
4. Dice the zucchini and stir into the other vegetables once the eggplant has softened.
5. Add the garlic to the vegetables, stirring well.
6. Dice the tomatoes and add them.
7. Add the finely chopped thyme with salt and freshly ground pepper to taste. Stir well and cook for two minutes.
8. Stir in the basil, then remove the vegetables from the heat.
9. Allow to cool. Just before serving, fill the Day Lilly with the ratatouille.
Tip: Just before serving add a bit of Napolitano sauce to the ratatouille to bind it.