Fragrant Orange and Date Salad
Also impressive served as individual starter portions as pictured.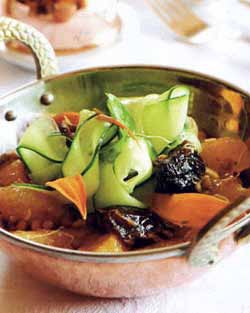 1 red chilli, finely chopped
12 pitted dates, halved
50ml orange blossom honey
30g onion sprouts
100g cooked lentils
Small handful coriander, chopped
Small handful basil, chopped
20g pine nuts or cashew nuts, chopped
4 oranges, peeled and segmented
1 cucumber
Handful lilly petals to garnish
1. Toss together the first 8 ingredients in a bowl.
2. Arrange the lentil mixture topped with the orange slices in a serving bowl.
3. Use a peeler to slice the cucumber into long strips, top the salad with a heap of cucumber strips, garnish with the petals and serve immediately.