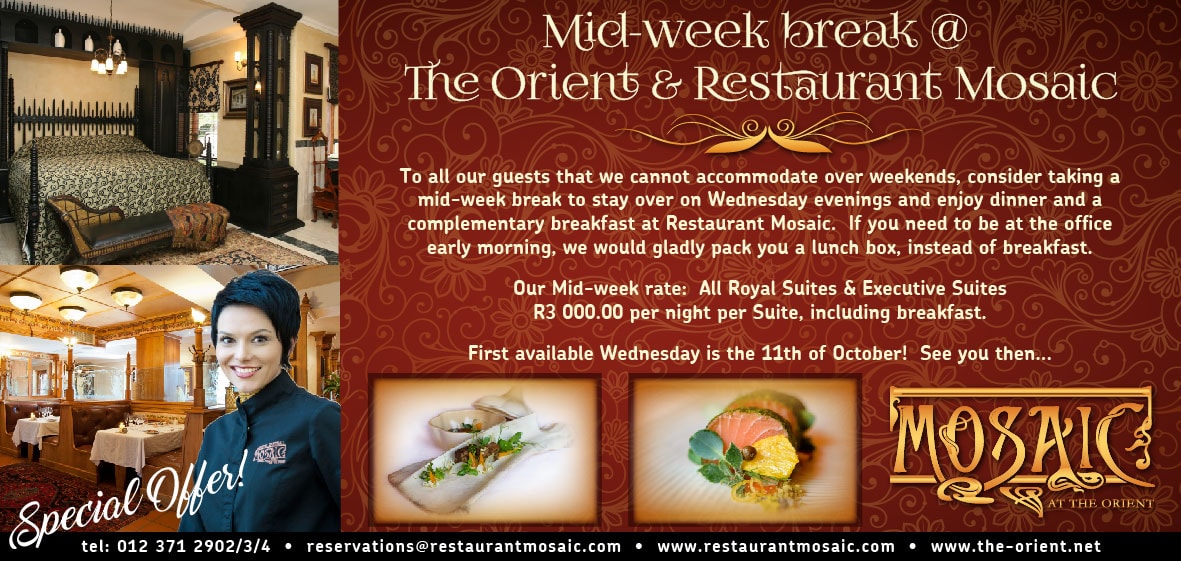 COLLABORATION DINNER AT THE RESTAURANT @ WATERKLOOF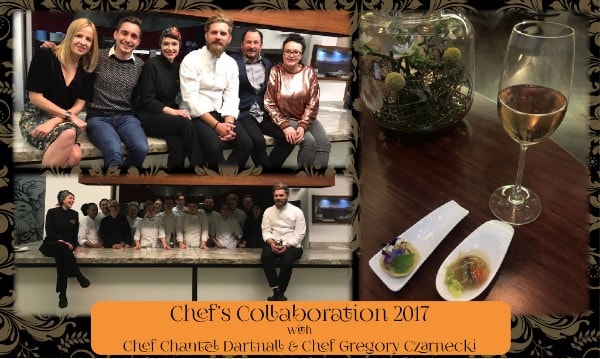 Chef Chantel Dartnall and the Mosaic Team joined Chef Gregory Czarnecki for the second edition of the Four Hands Collaboration Dinner, held at 'The glass box in the sky', also known as The Restaurant at Waterkloof, on 13 & 14 September 2017 for two days of gastronomic pleasure.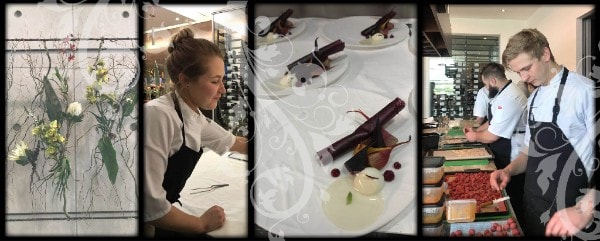 With a shared culinary philosophy and contemporary style, Chefs Gregory and Chantel once again showcased their genius culinary creations with a carefully constructed gourmet menu reflecting the fusion of their combined skills and highlighting their unique talents in the spectacular vineyard location. Wines were selected from both the Mosaic Cellar and Waterkloof Estate.
The evening began with an array of canapés, followed by an exclusive 9-course dinner and ending on a sweet note with a selection of handcrafted petit fours and bonbons.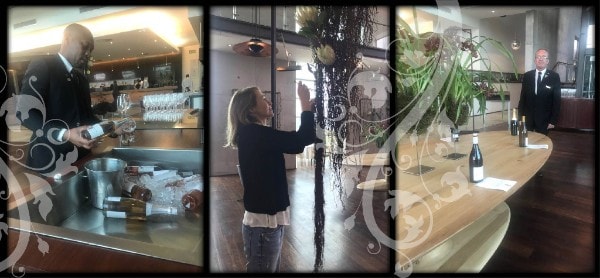 It was an honour to once again work with Chef Gregory and his team at The Restaurant at Waterkloof. We enjoyed the camaraderie despite (or maybe because of) the hard work by everyone involved in making this event such a great success!
Thank you to Chef Gregory and his team for hosting us at their beautiful venue!
MOSAIC ANNOUNCES THE LAUNCH OF THE NEW MENU
The Spring Equinox has finally arrived and so have our brand new menu covers and we can now reveal that our new menu will be called "Cosmorganic"…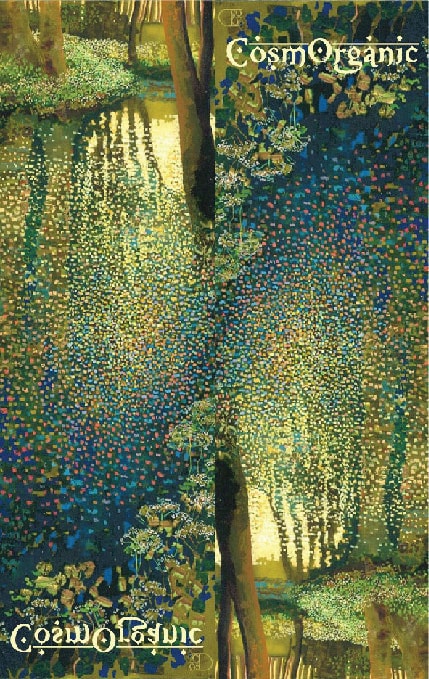 Cosmorganic
Have They witnessed the first glimmer?
Were They present when it all began?
Was it Devine or merely a naturaloccurence?
The act of creation – violent and abrupt
Destruction its result, but
from the ashes of its cataclysm, first life sprouts.
A catalyst in the primordial loneliness of space.
The beginning of All – what was the origin?
Indefinite questions, the answer elusive.
Attributed to Entities of the void
beyond our comprehension
our understanding naive.
We can but stand in awe and wonder
in the comforting knowledge that
we are all made of the same stardust…
Chantel
22 September, 2017
~~~
Cosmorganic: Pertaining to the supposed character of the universe as a living organism whose atoms are severally endowed with sensibility, asserting that the organic in the whole of the universe, as well as in the narrow sphere of single bodies on the earth, is the first thing from which the inorganic was separated…
For those of you who will be visiting us soon, we look forward to sharing our new creations with you!
SOUTH AFRICA'S ROCK STARS OF THE WINE WORLD @ MOSAIC
Chris & Andrea Mullineux
The Restaurant Mosaic Team was first introduced to Chris & Andrea Mullineux shortly after their first vintage was released. At the time the Swartland was still a controversial winemaking region in South Africa and they had to work exceptionally hard to prove the quality of, not only their wines but also the region they chose to call home.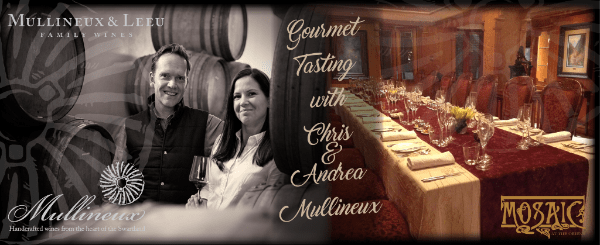 Over the years we have seen them grow from a modest beginning into one of the most revered and well-known wine estates in South Africa. They have focused diligently on the exceptional terroir of the Swartland and have chosen to work with the cultivars that work best with the soils that are unique to the region.  It has been a long road, but with a string of awards, both local and international, they have managed to turn the wine-world on its head – making the Swartland the place where everyone wants to be …
"Our aim is to produce wines that are a true expression of the Swartland. All steps of
our winemaking processes are taken with this ultimate goal in mind and we pay the
highest possible attention to detail in everything we do.
A natural minimalist approach is followed both in the vineyard and in the cellar. We work
closely with a select group of growers, who follow sustainably, reasoned farming practices.
In the cellar, apart from minimal amounts of sulfur, nothing is added to, or removed
from, our wines. We do not make use of any yeasts, acids, tannins, enzymes, or fining
and filtering agents."
~ Chris & Andrea Mullineux

We have followed their outstanding path to success with eager anticipation, building up a collection of wines from their very first vintage in 2008, hoping for an opportunity to showcase these wines and share them with our loyal fellow wine aficionados. After waiting patiently for many years, this year we finally managed to get both Chris & Andrea together for a weekend tasting of some of their finest (and oldest) wines.
Due to the sheer range and variety of wines available, we decided to host the tasting event over two days, starting with an evening tasting and wine pairing dinner on Friday, 1 September, followed by a morning tasting and wine pairing lunch on Saturday, 2 September at Restaurant Mosaic. Chris & Andrea were both in attendance and were excited to share their wines with our distinguished guests.
On Friday evening we focused on tasting the award-winning single terroir Syrah wines, grown in the Swartland on granite, schist and iron soils. We added one of Andrea's extraordinary wines made especially for the 2014 Cape Winemakers Guild Auction, from the rare Sémillon Gris grape – the perfect introduction to a stellar tasting event. Another interesting wine was a red field blend made by Andrea for their project, Fog Monster Wines in Amador County in the Sierra Foothills of California in the USA. The tasting was concluded with one of the most revered wines made by them to date … a straw wine made in the traditional solera method by a fractional blending of their vintage straw wines, from 2008 through to 2014.

It was noted by Chris & Andrea that all the vintages tasted during the evening were the first vintages of that specific wine, which made it all the more special to them. The tasting was followed by a dinner, specially prepared by Chantel and paired with more of their older wines, including their Kloof Street label, usually only available to their wine club members. It was without a doubt one of the most memorable wine tasting events ever hosted at Mosaic!
Saturday morning Chris & Andrea graciously joined us again for a morning tasting of their single terroir Chenin Blanc wines, grown in the granite, quartz and schist soils of the Swartland. Again, we started the tasting with another exceptional wine, made specially by Andrea for the CWG Auction, from another rare variety – the Clairette Blanche. We also showcased the Chenin Blanc, a so-called "orange wine", made by Andrea for their Fog Monster project in California. Lastly, we concluded this tasting with the latest 2016 vintage of their straw wines.

The tasting was followed by lunch, where Chantel and Germain spoiled guests with another stellar menu paired with some more of the award-winning wines from Mullineux, as well as their new label in Franschhoek, called Leeu Passant, which was launched earlier this year.
It was overall a hugely successful weekend with the "rock stars of the South African wine industry", Chris & Andrea Mullineux. Not only are they two of the most gracious and humble people we have the privilege of calling our friends, but they are also family orientated, being parents to two small children, but they are also a dynamic and driven winemaking team that can rightly be proud of their many achievements, including the ultimate award bestowed on Andrea by Wine Enthusiast in 2016 as their Winemaker of the Year! It was truly an honor to host them at Mosaic and we look forward to repeating this experience in another 5- 10 years to see how their wines have evolved with age.
RESTAURANT MOSAIC: BEST INTERNATIONAL RESTAURANT
RASA Rosetta Awards 2017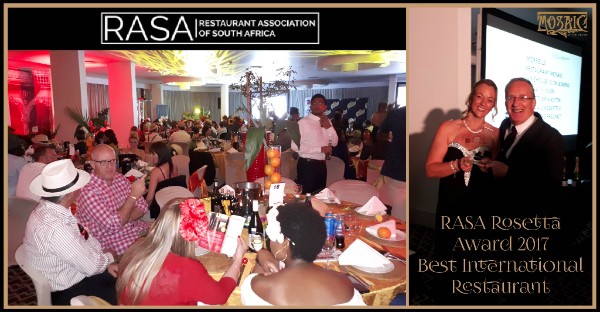 The Rosetta Award is an award given to Restaurants that strive for Excellence in the Restaurant Industry. It is recognition of the highest Honors for Service Excellence & overall contribution to the upliftment of the Restaurant Industry.
Restaurant Mosaic was awarded the RASA Rosetta Award for Best International Restaurant in 2017 at the recent Germain was honored to receive this prestigious award on behalf of the Mosaic Team.
THE BEST CHEF AWARDS 2017
As well as being one of the Top 300 nominees for The Best Chef Award 2017, Chantel is also proud to be amongst the nominees with these 18 leading female chefs for the honour of being named The Best Chef Lady 2017:
Elena Arzak – Spain
Emma Bengtsson – Sweden
Lanshu Chen – Taiwan
Helene Darroze – France
Chantel Dartnall – South Africa
Loretta Fanella – Italy
Tanja Grandits – Germany
Georgianna Hiliadaki – Greece
Vicky Lau – Hong Kong
Stéphanie Le Quellec – France
Anne-Sophie Pic – France
Margo Reuten – The Netherlands
Helena Rizzo – Brazil
Ana Ros – Slovenia
Carme Ruscalleda – Spain
Kamilla Seidler – Denmark
Clare Smyth – UK
Inga Turmieniene – Lithuania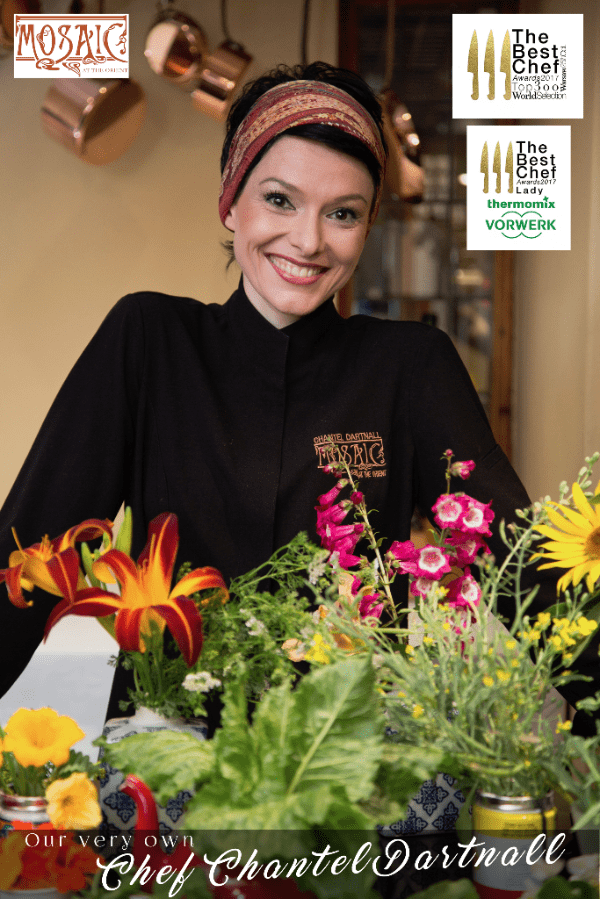 We are excited to be nominated amongst some of the best chefs from around the world for the title of The Best Chef 2017 and look forward to the final announcement.
Save the Date
1st – 30th September – #300/#101
Live from Warsaw 25th October #100/#1
"If the bee disappeared off the face of the earth, man would only
have four years left to live."
~ Maurice Maeterlinck, The Life of the Bee
The bee is associated with the production of food for humans (via pollination, but also honey), healing, and perhaps more than any other creature – if not the only creature, held up as setting a selfless example to mankind on organized society.
Bees are one of the most important insects, if not animals, in the world as they are responsible for pollinating most of the vegetables and fruit we find at our local supermarket. Without bees, we would not have a food chain. In turn, a bee's version of a balanced diet is pollen and nectar to make honey. So the kindest thing you can do for these creatures is planting a bee friendly garden to attract these pollinators to the cities.
The Francolin Conservancy Area is a natural habitat for bees and we are honored to welcome Sharon from MacBee Honey to the reserve. She has put up several be houses and we are lucky enough to have the perfect environment for these bees to pollinate and be free. One of the trees found on the reserve, that provides such an environment, is the:
Sweet Thorn Acacia Karoo Tree
The sweet thorn makes a beautiful garden specimen. The bright yellow flowers look very striking against the dark green foliage. The rough, dark brown bark is also most attractive. The flowers are sweetly scented and are renowned for attracting insects which are essential to any bird garden. In cold and dry areas the tree will be deciduous. The roots are invasive, so avoid planting near paving or buildings. The sweet thorn is very adaptable to soil types and is frost and drought hardy.
However, for best performance, water well and deeply (shallow, frequent sprinklings only encourage shallow root growth) until established. Plant with plenty of compost, bone meal or superphosphates (commercial tree tablets also work well). The growth rate is fast, up to 1m per year. It may be grown from seed which should be soaked in hot water and left overnight. You will see if this has been effective as the seed will swell up. Sow the following morning. Seedling trays with seedling mix can be used, or the seeds could be sown directly into black bags.
Cover lightly with sand and do not allow to dry out. Germination usually takes 3 – 12 days. The seedling will transplant well in spite of the long tap root. Wait until they unfurl their second leaves before transplanting.
CHEESE("Y") CELEBRATIONS @ MOSAIC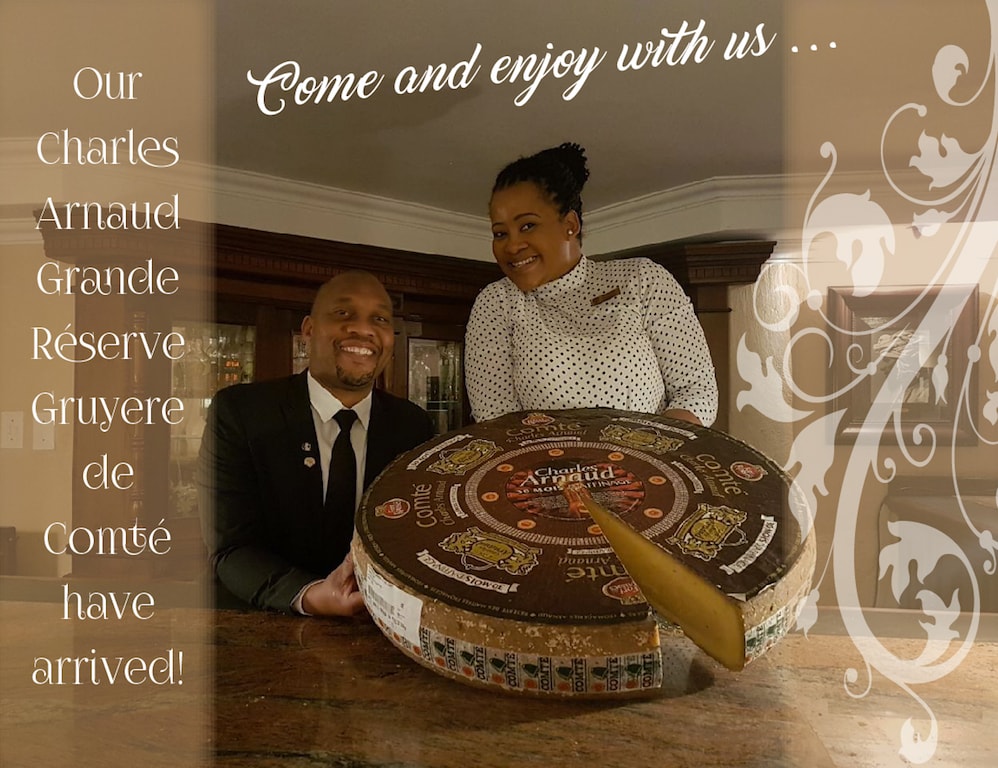 We were delighted when our new 30-month-old Charles Arnaud Grande Réserve Gruyere de Comté arrived! Weighing in at a staggering 3kg, this delightfully delicious cheese is made from 530 liters of milk and produced in the Jura Mountains located north of the Western Alps.
Jean-Charles Arnaud comes from a family that has been collecting cheeses for more than 100 years in 35 small "fruitières" and maturing them traditionally. Today, with a Comté tonnage of 5 500 tons, The Fromageries Arnaud count for roughly 12% of the total Comté production.
Appearance & Flavour:
Firm and supple that melts in the mouth. Salty but balanced with a beautiful nutty flavour.
FUTURE DATES FOR 2017
Friday & Saturday, 3 & 4 November 2017
Storm Wines – Tasting Dinner & Lunch
1 December 2017
Prestige Champagne Tasting & Dinner
Warmest regards,
Chantel, Mari, Germain and the Mosaic Team