A SUCCESSFUL COLLABORATION!
FOUR HANDS DINNER WITH CHANTEL DARTNALL AND GREGORY CZARNECKI

When two creative minds combine their talents and passions for the culinary arts,
it is bound to be an unforgettable experience…
Two of South Africa's best chefs, Chantel Dartnall of Restaurant Mosaic and Gregory Czarnecki of The Restaurant at Waterkloof, joined forces on 24 and 25 May 2017 in the Mosaic kitchen. Both chefs have been bestowed with the coveted title of Eat Out S.Pellegrino & Aqua Panna Chef of the Year, and collaborated in creating an unforgettable 8-course dining experience, paired with exceptional wines imported exclusively for the Mosaic Cellar.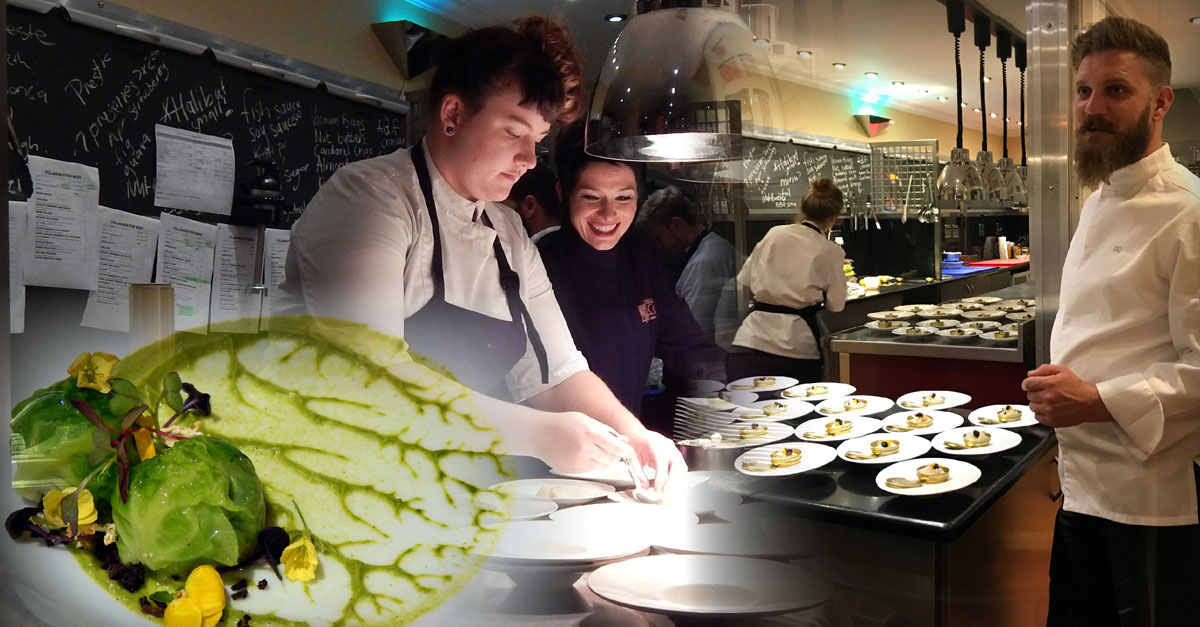 Situated more than 1 459 km from Mosaic in its own picturesque setting in Somerset West, Chef Gregory is known for having a like-minded respect and appreciation for nature, as he transforms the most humble and honest of seasonal ingredients into edible art on a plate.
"Inspiration can be found everywhere; we are surrounded by it, from the seasons to paintings and flower arrangements. From fallen leaves to a certain colour palette or a fruit, anything can bring me inspiration." says Gregory.
Sharing his appreciation for nature, Chef Chantel's botanical style cuisine is a reflection of Mother Nature, from the design of the dish down to the medicinal qualities of the plants included in each dish that exhilarates her guests and enhances their dining experience, in a way that only she can do.
"All the flavours are in balance with each other, from the intricate amuse bouche to the sweet savourings of dessert. Even though each one is spectacular on their own, they come together in a beautiful story where each ingredient becomes a chapter that in the end flow together in a perfect harmony, creating a magical ambiance. The delicate herbs and flowers are more than just garnish, they become essential ingredients that allow you to emerge yourself in the tranquillity of nature. I want to create memorable experiences and thus, each dish is not only perfectly paired with the ideal wine, but even the plate and cutlery is chosen with great care and attention to detail." says Chantel.
Mosaic's comprehensive cellar comprises of more than 75 000 bottles of wines under 5 500 different local, as well as international labels. Some of these wines have been collected since the 1970's. The internationally accredited sommelier, Germain Lehodey, is well-known in South African, as well as in international wine circles and has received numerous awards. Germain and the cellar team, together with Chef Chantel and Chef Gregory, ensured that each dish on the menu is paired with a wine that complements it perfectly to create a harmonious balance.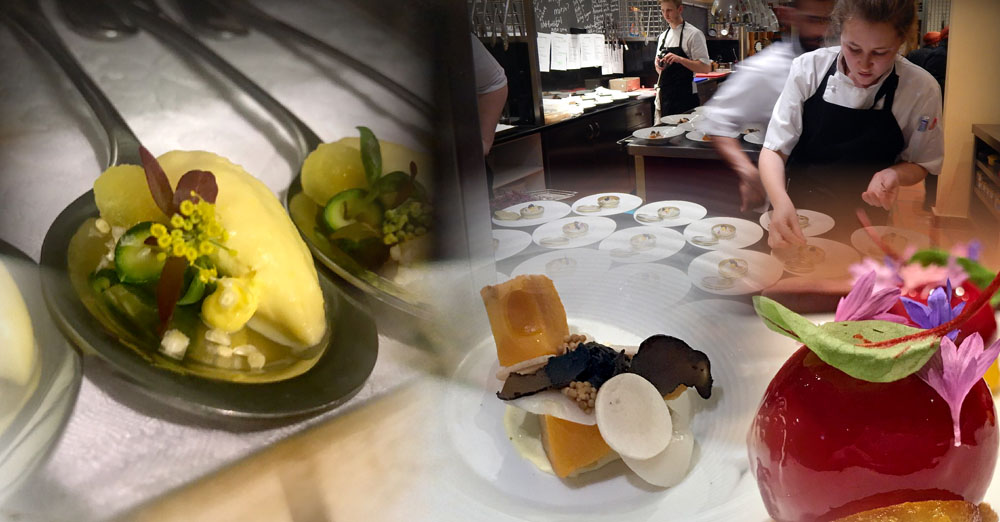 It was the finest of dining experiences, awakening all the senses where exquisite flavours were met by excellent wines. Chef Chantel and Chef Gregory both presented the perfect flavour profile in eight courses. As collaboration dish, Chef Chantel presented slow braised rabbit dressed in matcha pasta with a velvet smooth morel mushroom sauce; Chef Gregory prepared seared loin of rabbit wrapped in cassis pasta and chestnut glazed with rabbit jus.
It was amazing to experience how two kitchens, with completely different ways of presenting their cuisine, merged into one, without difficulty. We are extremely excited to announce that the collaboration will continue on 13 and 14 September 2017, when the Mosaic Team will be traveling to Cape Town to share the kitchen with The Restaurant at Waterkloof – all bookings for this event can be made directly with The Restaurant at Waterkloof.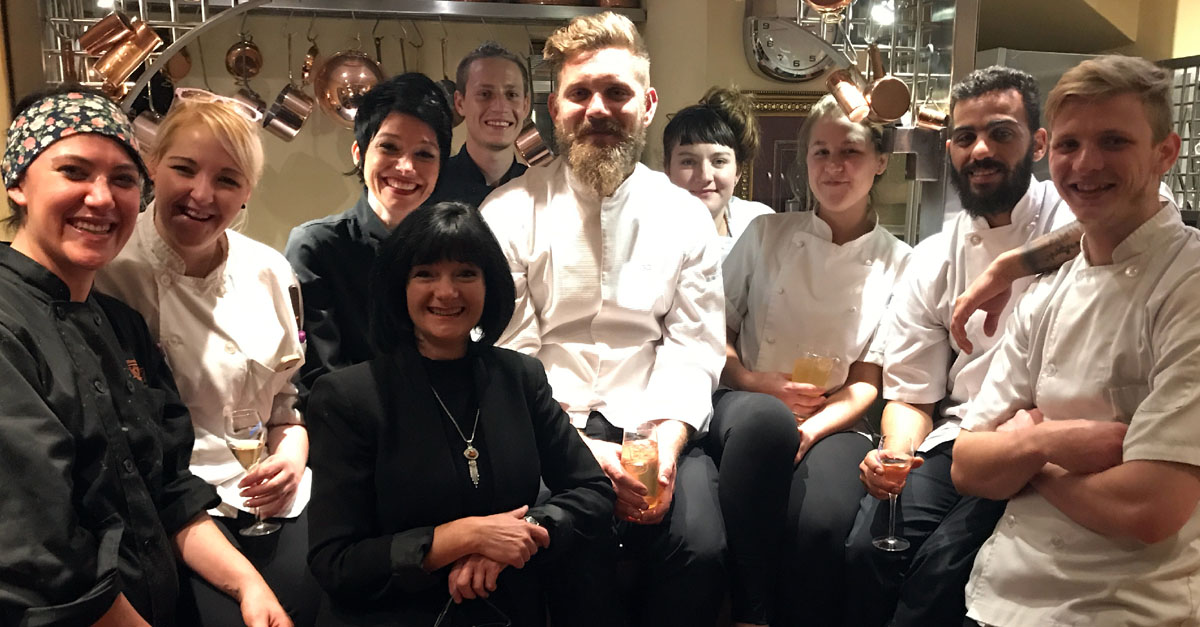 FROM THE TABULA RASA MENU WE INTRODUCE…SEA MIST
Saffron                      East Coast Lobster                         Coral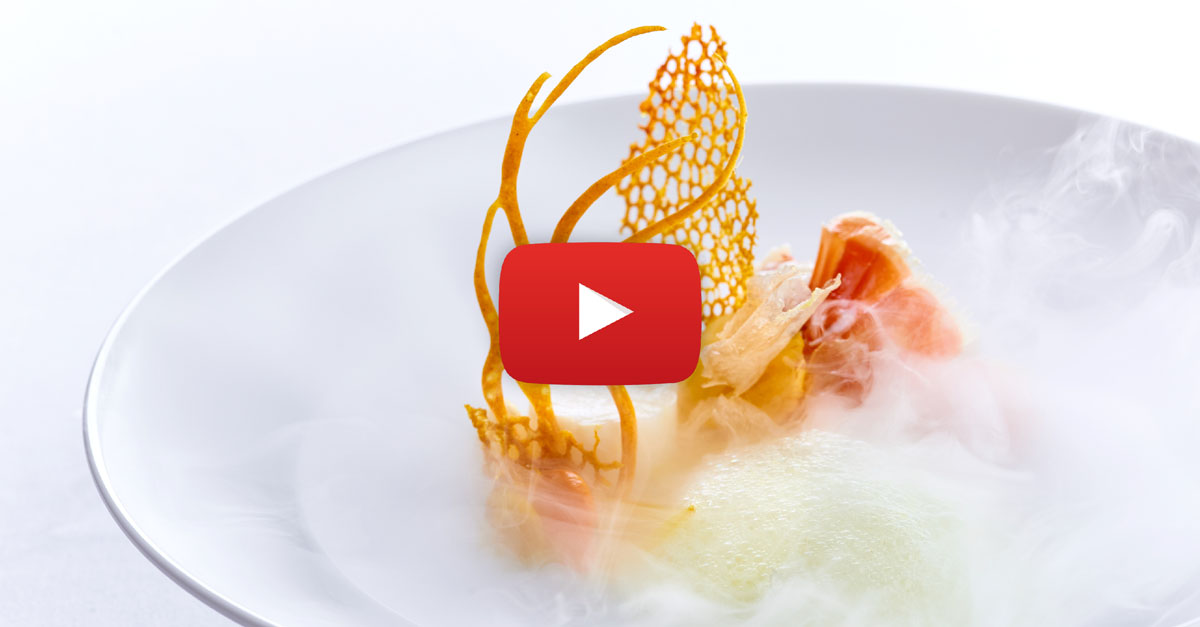 As the sun peaks over the horison, and the mist rolls in from the sea, the drip, drip, drip of moisture condensing on the leaves gently calls you from your slumber.
It is a fairytale world that awaits you when you open your eyes to see the sea mist softly caressing the forest just outside your door.
Wanting to recreate this magical scene it took me a few years to find the perfect combination of plates which I was fortunate to discover in the cellars of Bernardaud in Paris. Creating the perfect stage, for the soft aromas of the sea to merge with the sweet freshness of the lobster and exotic spiciness of saffron enticing you to take the first bite and enjoy the unadulterated pureness of the ingredients as ethereal as the sea mist in the first light of dawn.
PERFECT PAIRING FROM THE JURA VALLEY
Vin Jaune (or "Yellow Wine"), originates from the Jura, located to the east of the Côte d'Or next to the Swiss border under Alsace, the smallest wine district in France.
It is produced in a similar fashion to Fino Sherry, however, is not fortified and does not go through the Solera system. The final product is one of the driest white wines produced in the world.
Vin Jaune 2008 from Domaine Rolet Père & Fils displays a lovely pale yellow colour in the glass. A powerful nutty bouquet on the nose that is refreshingly clean and pure followed by a surprise on the palate, where it is powerful and dry, yet not acidic as expected with a very long aftertaste.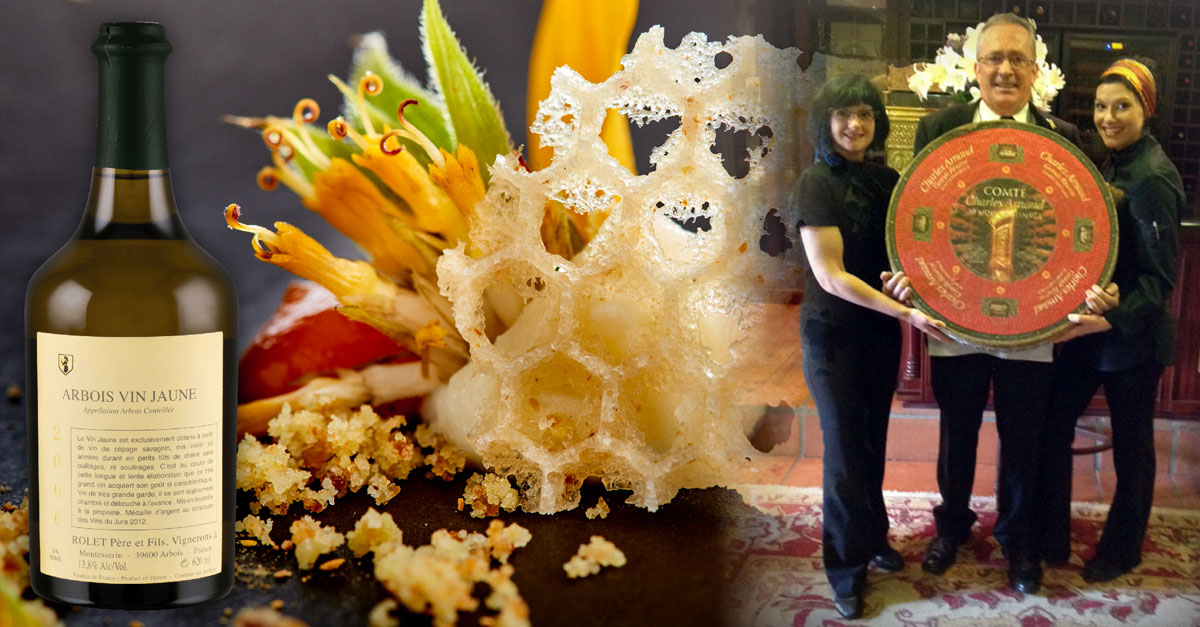 The Vin Jaune is the perfect pairing with our specially imported 36-month-old Comté cheese, from the green pastures of The Fromagerie Charles Arnaud, featured on the Tabula Rasa Menu.
Comté was one of the first few cheeses to receive an AOC (Appellation d'origine controlée) status in 1958, with villagers of the Jura in The French Alps lovingly crafting this unique and delicious cheese for more than ten centuries.
Restaurant Mosaic is the only importers of this wine in South Africa and proud to be able to match and bring these two iconic products from the picturesque Jura Valley to our loyal patrons!
Santé
Germain
CHANTEL TO VISIT THE GODFATHER OF BELGIAN CUISINE
Hof van Cleve is widely recognised as one of Belgium's gastronomic greats and is set in an old farmhouse not far from the city of Ghent. Chef Peter Goossens cuisine is all about the perfect balance between classic and contemporary elements and between creativity and intensity. In 1994 he gained a Michelin star and a second in 1998. The restaurant was awarded a third Michelin star in 2005, which it has retained ever since.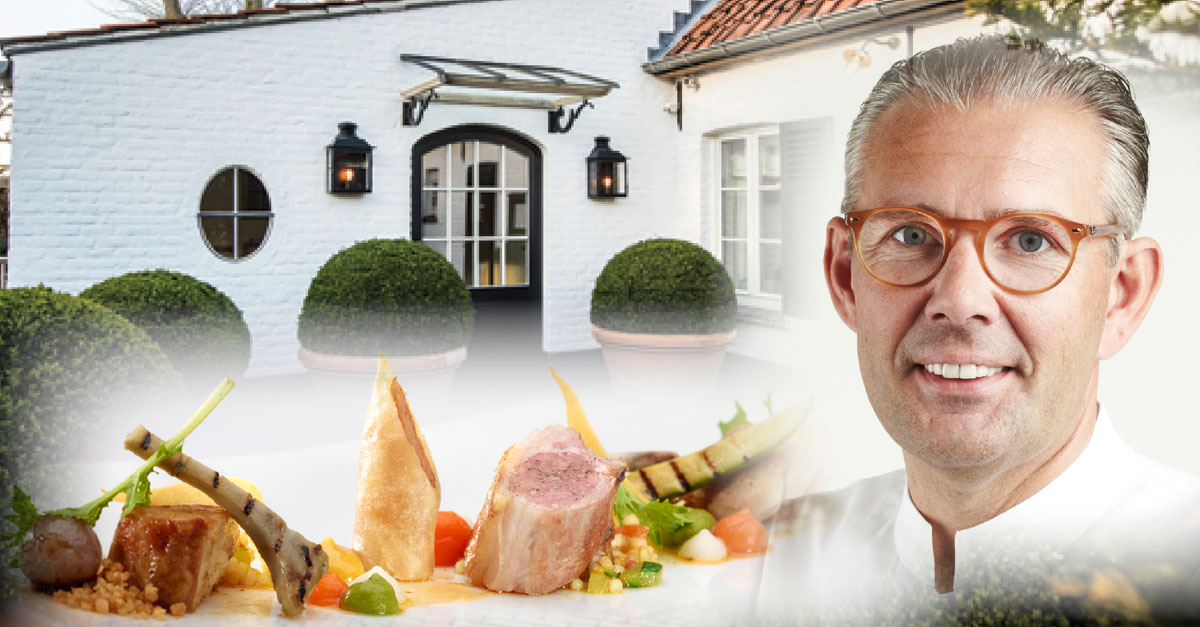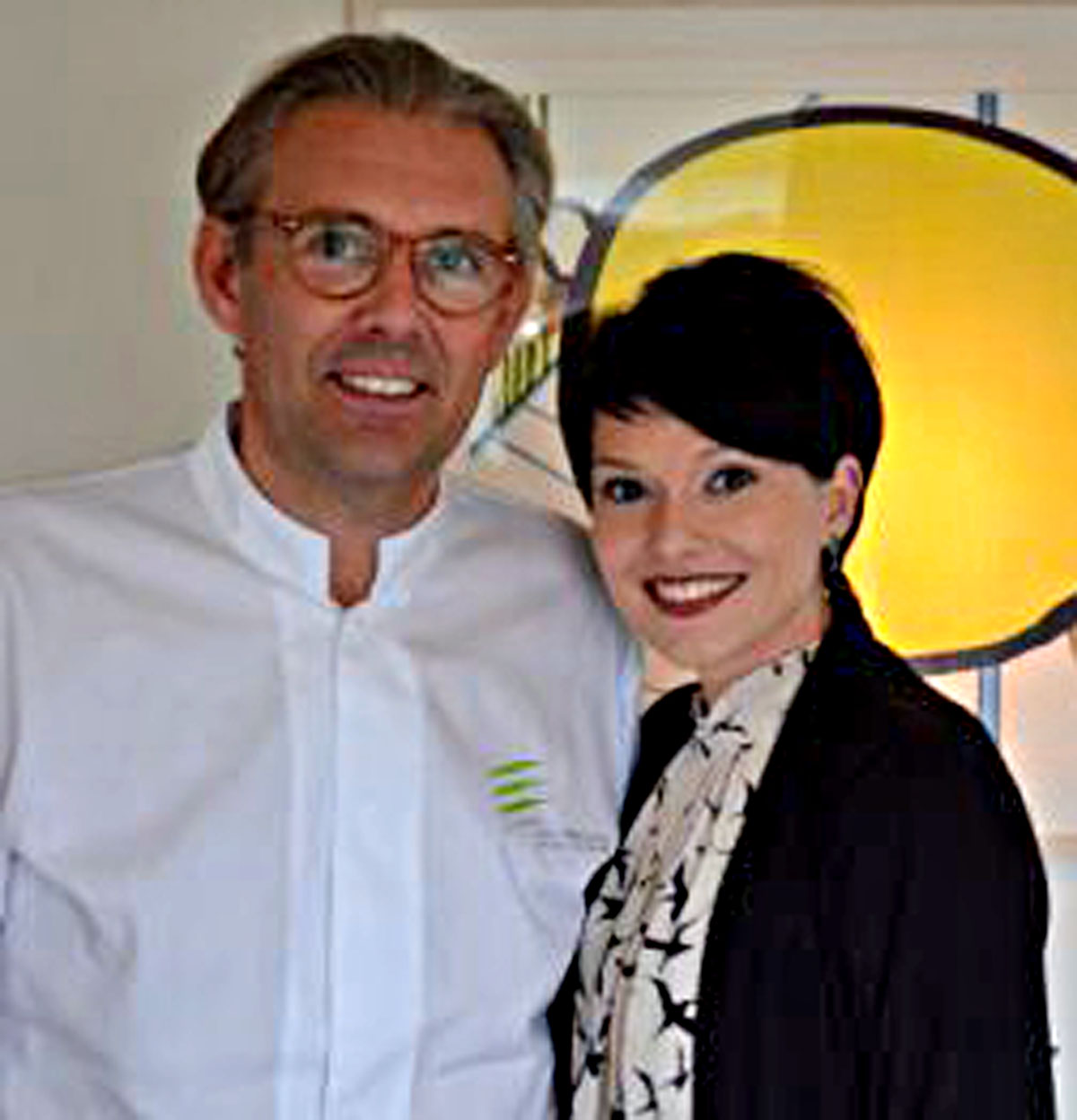 "It is a great privilege to be able to return to restaurant Hof van Cleve, voted as the no.1 Best Restaurant in the World by S.Pellegrino in 2016 and this time not only to dine but to spend a few days with Chef Peter Goossens in his kitchen.
I first met Chef Peter in 2013 at his restaurant in Kruishoutem when we were traveling through Belguim on our Annual Winter Break. It was an incredible experience to sit down with him and learn more about the philosophy behind his cooking." says Chantel.
READ THE ARTICLE PUBLISHED IN CULINARY ARTIST >>
KOEN ROOSE, FROZEN 2015
A SINGULAR EXHIBITION OF A LIMITED RELEASE
The vision of Belgian winemaker Koen Roose of Spioenkop Wines in Elgin, is to produce wines that are seductive and pure but at the same time unique…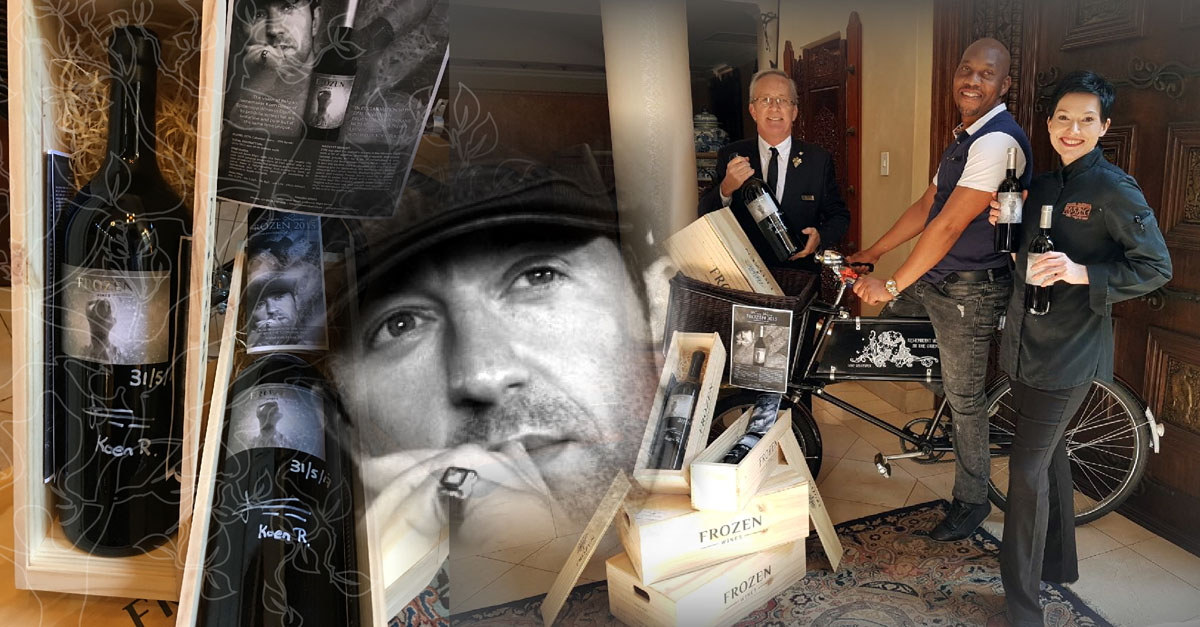 Koen Roose unveiled his limited release Cabernet Franc / Syrah blend, Frozen 2015, at an exclusive tasting at Restaurant Mosaic on 31 May 2017. Only a few of these precious bottles were made available to Koen's South African collectors as most of his wines are exported to Europe. The tasting was followed by a silent auction where ardent collectors had the opportunity to bid on Magnums and Double Magnums of the Frozen 2015…both of which achieved excellent results – it was clear that the standard of this wine could not be determined by currency.
Chef Chantel prepared a special dinner for all the guests to compliment Koen's award-winning wines that were further enjoyed during dinner. Thank you to everyone who made it a night to remember!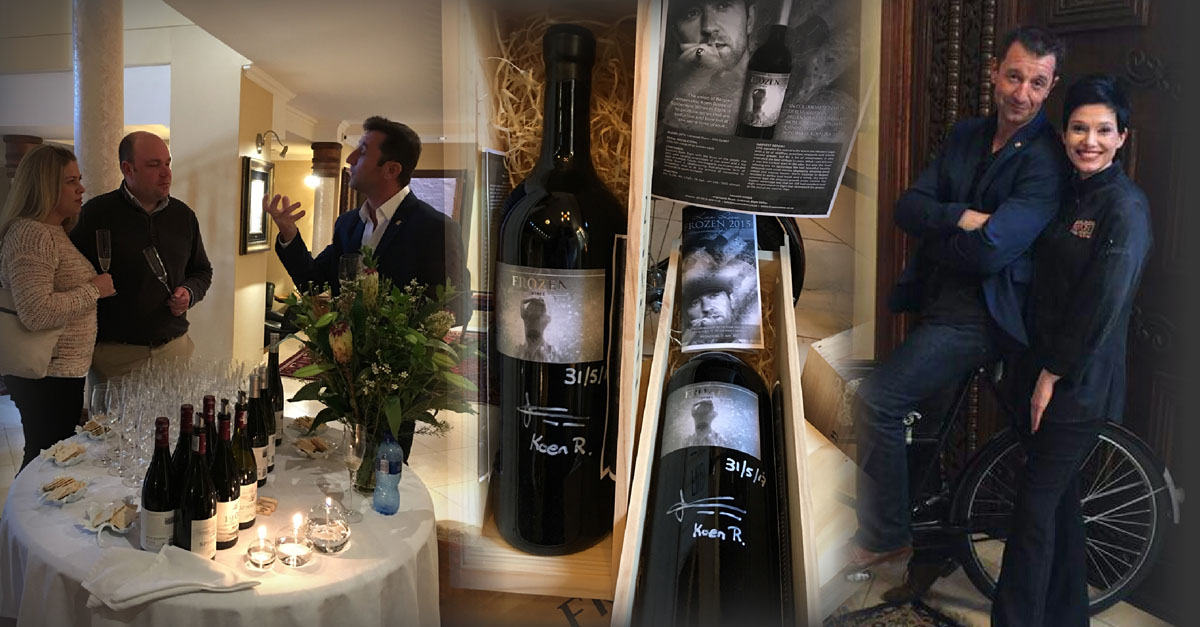 CHÂTEAU DE FESLES
The Yquem of the Loire Valley
Château de Fesles is located amongst the most beautiful Châteaux of the Loire Valley in the southern tip of the Anjou region, near the River Layon. The Château's history dates back to 1070, and it holds a dominant position above the valley.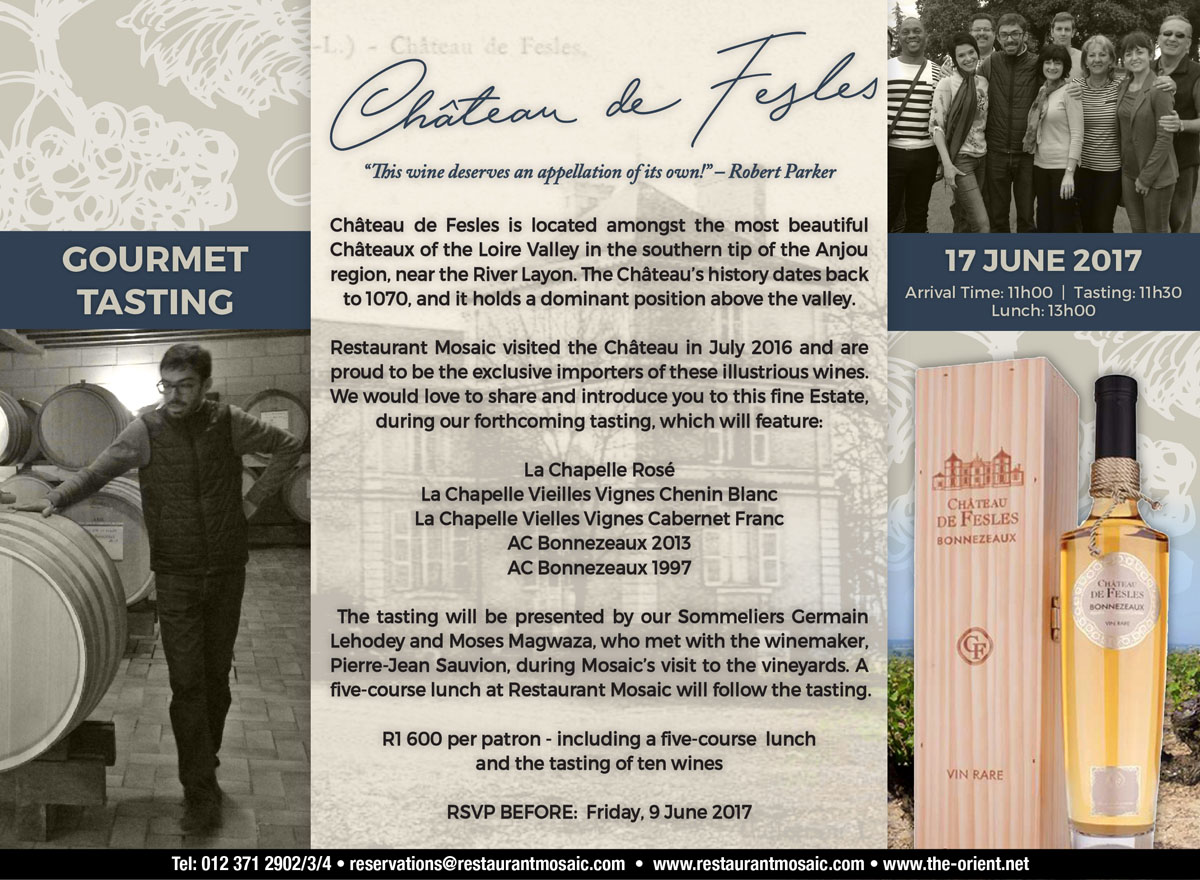 Restaurant Mosaic visited the Château in July 2016 and are proud to be the exclusive importers of these illustrious wines. We would love to share and introduce you to this fine Estate, during our forthcoming tasting, which will feature:
La Chapelle Rosé
La Chapelle Vieilles Vignes Chenin Blanc
La Chapelle Vielles Vignes Cabernet Franc
AC Bonnezeaux 2013
AC Bonnezeaux 1997
The tasting will be presented by our Sommeliers Germain Lehodey and Moses Magwaza, who met with the winemaker, Pierre-Jean Sauvion, during Mosaic's visit to the vineyards.
17 June 2017
Arrival Time: 11h00 | Tasting: 11h30 | Lunch: 13h00
A five-course lunch at Restaurant Mosaic will follow the tasting.
R1 600 per patron – including a five-course lunch and the tasting of ten wines
RSVP BEFORE: Friday, 9 June 2017
CARMELO RODERO
"GRAPE, SCIENCE, WINE AND ART…"
Follow the link below to read more about the
Carmelo Rodero Gourmet Tasting that was held on Friday, 5 May 2017.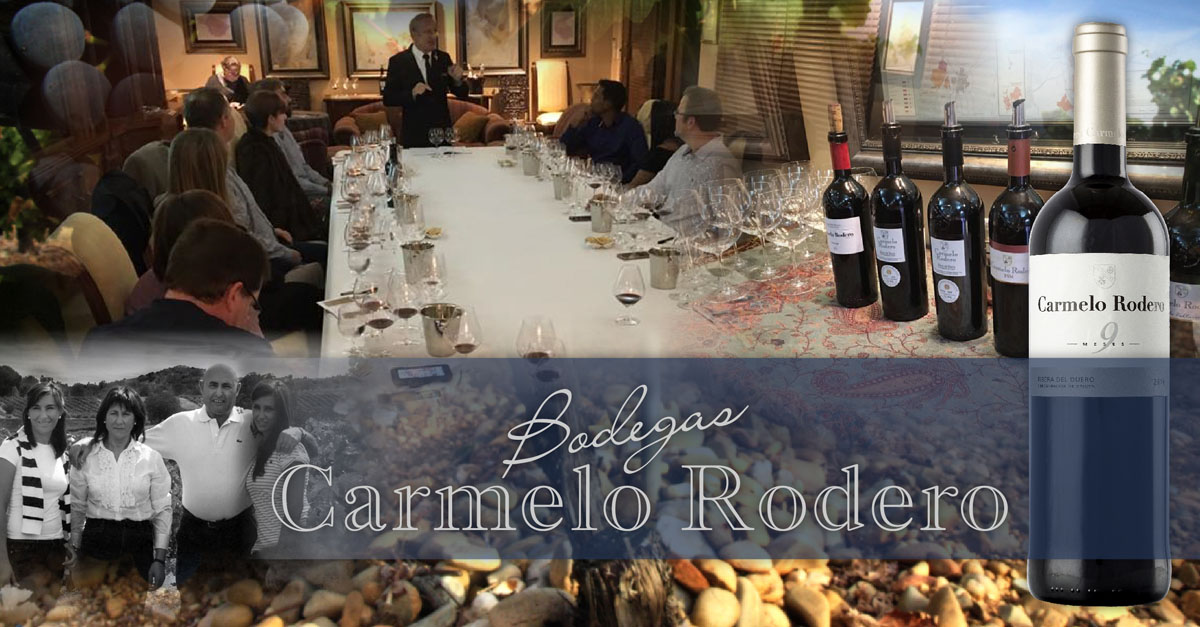 FATHER'S DAY – 18 JUNE 2017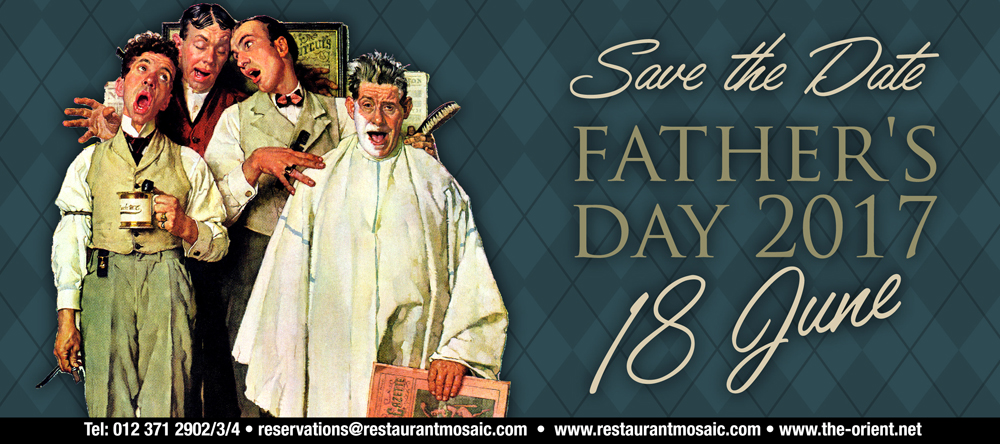 ART @ THE ORIENT
The latest addition to The Tienie Pritchard Museum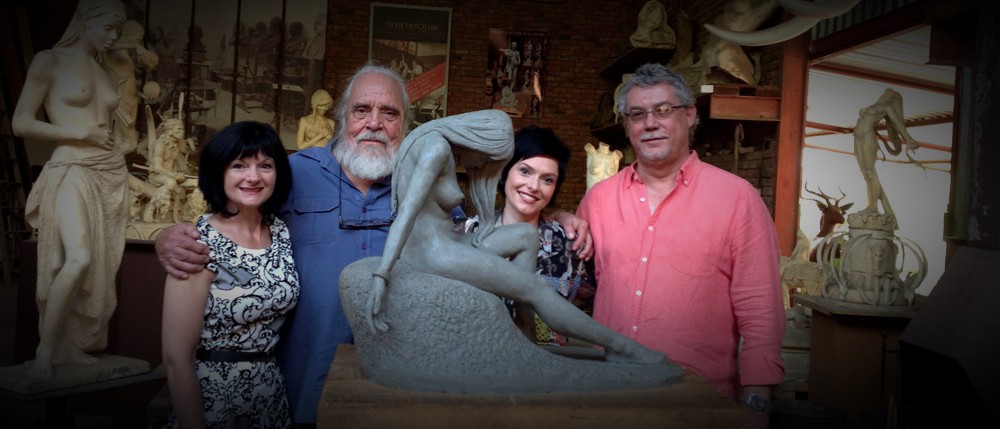 The Owners of Restaurant Mosaic have always been keen collectors and close friends of the celebrated South African sculptor, Tienie Pritchard.
The Mosaic family began collecting Tienie's sculptures even before the hotel and restaurant opened their doors, by which time they had accumulated many of his pieces and decided to showcase part of their collection in a new living museum for Tienie's works at The Orient, boasting a wealth of information about his career.
Tienie is renowned for his monumental public commissions. The nine meter high George Harrison (better known as The Miner) in Settler's Park, Eastgate, Johannesburg is the biggest and one of the best-known bronze monuments in the country.
We are delighted to announce the acquisition of a few new sculptures into our collection, which will be arriving soon…
FUTURE DATES FOR 2017
17 June 2017
Château de Fesles Gourmet Tasting & Lunch
18 June 2017
Father's Day Lunch
A reminder that Restaurant Mosaic and The Orient will be closed for our annual Winter Break from Monday, 19 June 2017 to Thursday, 27 July 2017. Our first service will be Friday, 28 July 2017 and look forward to welcoming you back!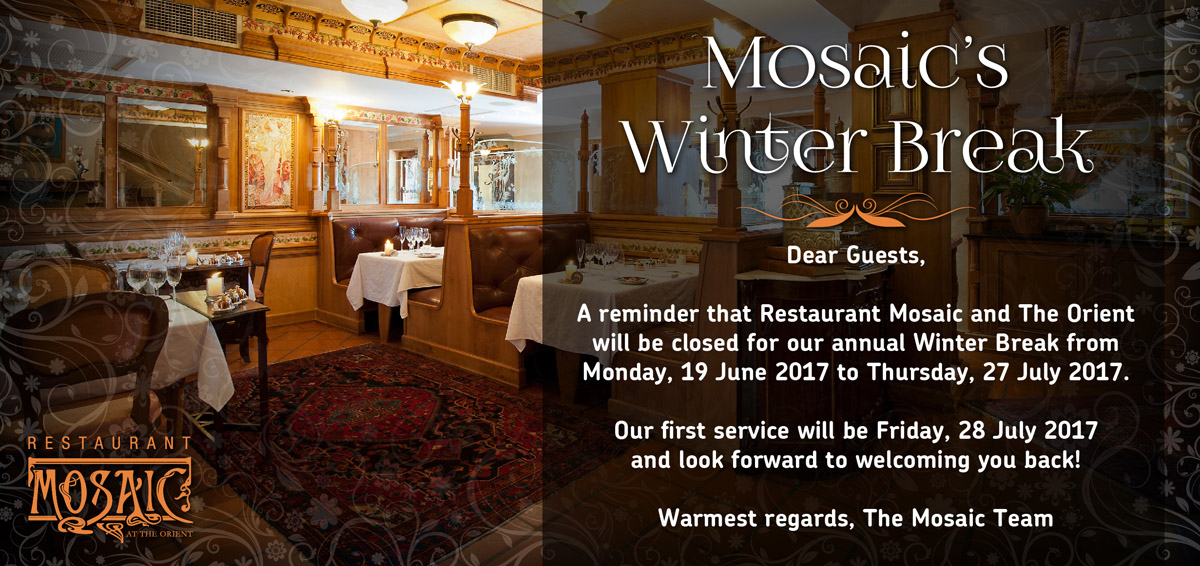 Warmest regards,
Chantel, Mari, Germain and the Mosaic Team