CHANTEL @ THE LE KAP LIFESTYLE FAIR 2017

The annual Le Kap Lifestyle Fair is a much anticipated event, hosted this year on Saturday, 10 June 2017 at Steyn City, just outside of Johannesburg. Le Kap Lifestyle Fair, now in its fourth year, is one of South Africa's foremost luxury lifestyle events and its partnership with Steyn City, the sprawling 2000 acre multi-billion rand lifestyle resort, set a new benchmark to those who embrace the finer things in life. This is the first time this highly acclaimed extravaganza has been successfully held in Johannesburg.
The glitzy and glamorous Le Kap Lifestyle Fair, born out of the appreciation of the finer things in life, delivers this annual lifestyle event with a curated selection of gourmet foods, fine wines, luxuriously inspired couture, a supercar showcase, dressage and show-jumping. Le Kap Lifestyle Fair is synonymous with luxury, fashion and style, celebrity spectacle and a jubilee of multimedia recognition.
Fine food and wine combined with fashion forms a significant part of this event; together with all the other unique elements on offer, resulting in an event extraordinaire.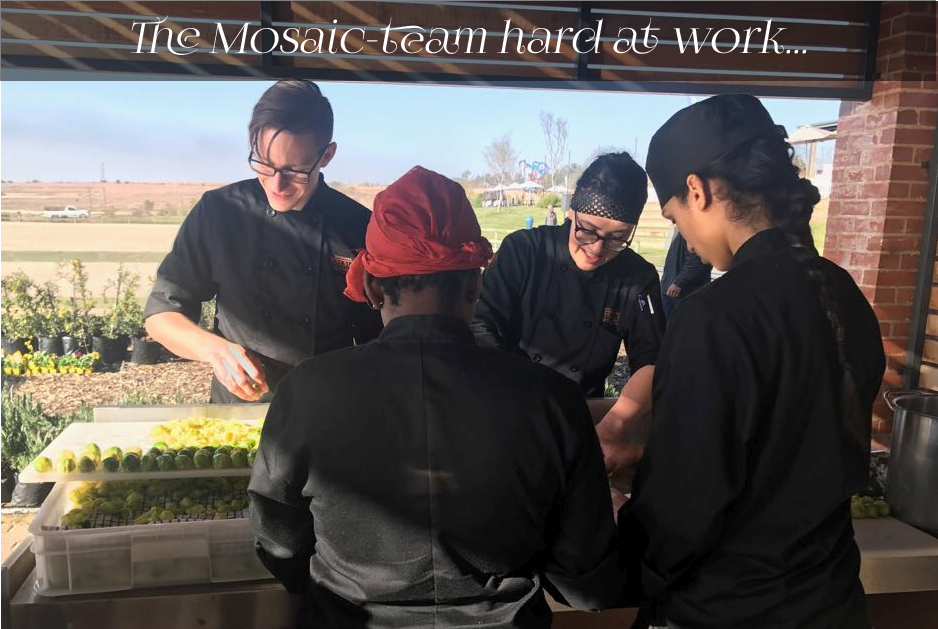 A select few South African celebrity chefs were invited to showcase their culinary talents from a custom-designed exhibition kitchen at the 2017 Le Kap Lifestyle Fair. Chantel Dartnall from Restaurant Mosaic, Jane-Therese Mulry (Executive Chef of The Saxon Hotel), Nathan Jacobs (Head Pastry Chef of The Saxon Hotel) and Benny Masekwameng  from Tsogo Sun, was each afforded a 45 minute slot to produce one of their signature dishes in full view of their fans. Event attendees were able to indulge in a meal from each of the celebrity chefs, as part of the ticket offering.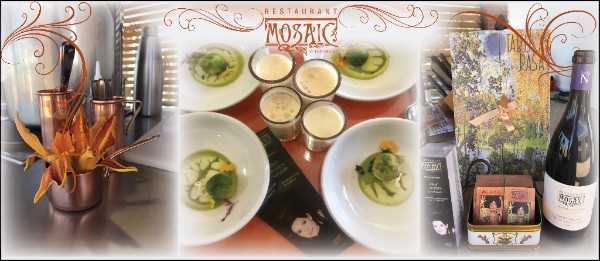 Chef Chantel chose to showcase one of the new dishes on her Tabula Rasa Menu. Soupe du Jour is an impressive cauliflower cream soup permeated with earthy autumn flavours and richness, Brussels Sprouts filled to bursting with creamy Cauliflower, Goose Liver Mousse, and black Perigord truffle. Inspired by the traditional humble soup dish from France, where the chef tossed anything and everything that was left over from yesterday into a pot and featured it in the restaurant on a given day as the "soup of the day". Chantel applied her creative genius and turned the idea around to present a humble soup with noble ingredients and decadent flavours, tempting the palate with a soft creaminess and exploding flavours.
"It was an exciting challenge to prepare a dish that truly reflects what
we do at Restaurant Mosaic for 1500 guests. The entire brigade came
together and we had a lot of fun preparing for the event, and had great
feedback from the guests… some didn't only ask for seconds… but
third and fourth portions too."
~ Chef Chantel Dartnall
FROM THE TABULA RASA MENU WE INTRODUCE
Where The River Meets The Sea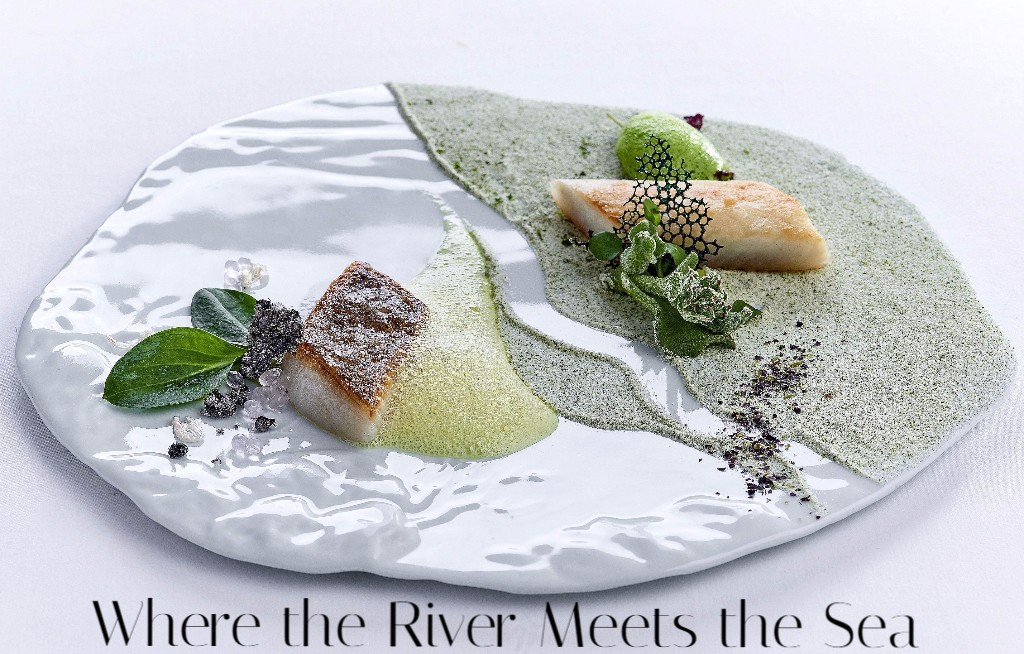 Watercress Tilapia Halibut Oyster Leaf
We are surrounded by some of the most beautiful natural scenery in the world – the one reason why so many tourists flock to South Africa to come and enjoy what we sometimes take for granted. Private family time is very important to us – a time to breathe, to relax, to re-invent ourselves, to talk and sleep and enjoy each other's company. We are fortunate to have our own little piece of paradise where the rivers run clear, the rain forests drip with the sea mist in the morning and the sparkling waters of the lagoon runs into the sea along a shallow stream that you can jump over.
Watching the local fishermen on the beach praising their catch of the day and playfully arguing which fish is the best, makes it difficult for the onlookers to decide between the sweet soft flesh of the fresh water fish or their stronger flavoured cousins from the ocean. I always end up buying one of each, not to disappoint the fiery contenders.
This is in honour of those precious memories, spending our days where the river meets the sea

CHÂTEAU DE FESLES GOURMET WINE TASTING
The Yquem of the Loire Valley
"This wine deserves an appellation of its own!" – Robert Parker

Château de Fesles is located amongst the most beautiful Châteaux of the Loire Valley in the southern tip of the Anjou region, near the River Layon. The Château's history dates back to 1070, and it holds a dominant position above the valley. Restaurant Mosaic visited the Château in July 2016 and are proud to be the exclusive importers of these illustrious wines.
On Saturday, 17 June, Restaurant Mosaic hosted a tutored tasting event, featuring a select few wines from this acclaimed Château.
Guests were treated to a rarity, found only in the Loire Valley: the La Chapelle Cabernet d'Anjou 2015 is a beautiful salmon pink Rosé made from 100% Cabernet Franc. The palate was light and just off dry, very elegant with a good acidity and attractive aromas of red fruit.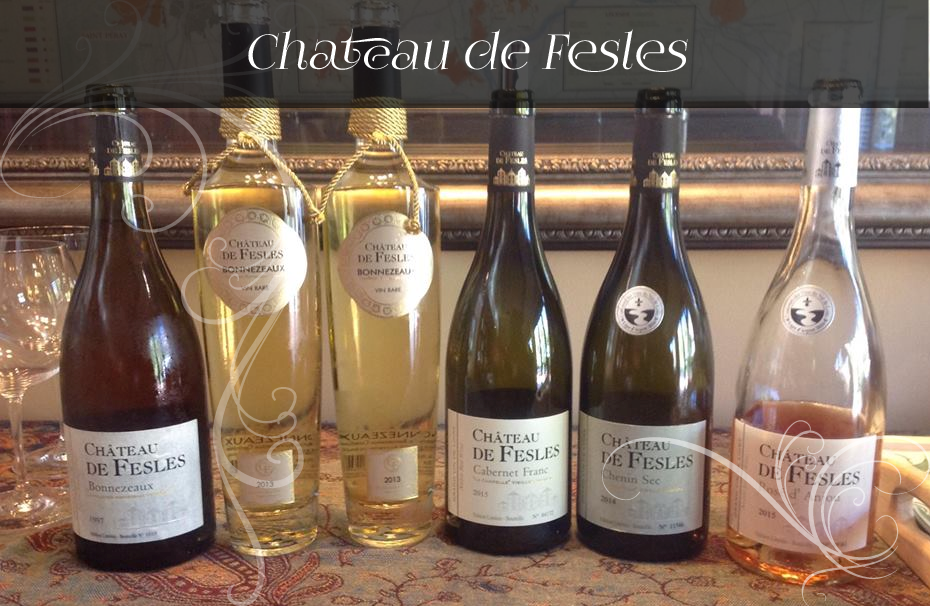 The next wine was another rare Rosé wine, the La Chapelle Rosé d'Anjou 2015. Made from an interesting blend of Grolleau, Gamay and Cabernet Franc, it reflects a dark pink colour with a generous bouquet of ripe strawberry and plum fruit and hints of Asian spice. The palate was also off-dry, the richness checked by a good acidity, with plenty of red and dark fruit flavours.
La Chapelle Vieilles Vignes Chenin Blanc 2014 was a 100% Chenin Blanc, grown in the mature La Chapelle vineyard to the South of the Loire. This bone-dry, fresh wine was crisp with citrus and apple flavours and a chalky minerality on the nose.
The La Chapelle Vieilles Vignes Cabernet Franc 2015 was a lovely dry red with a pleasant freshness and robust tannins. Made from 100% Cabernet Franc, it showed a beautiful deep red colour and dominant aromas of green pepper and wild fruits as well as ripe red fruits and hints of violets.
To end the tasting, the guests were treated to the astonishing sweet wine that has earned Château de Fesles the title of the "Yquem of the Loire Valley" … Bonnezeaux is made from a mix of Chenin Blanc, some which are slightly botrytised and some less so, hand-picked over the course of six 'tries' to get the perfect balance between sugar and acidity.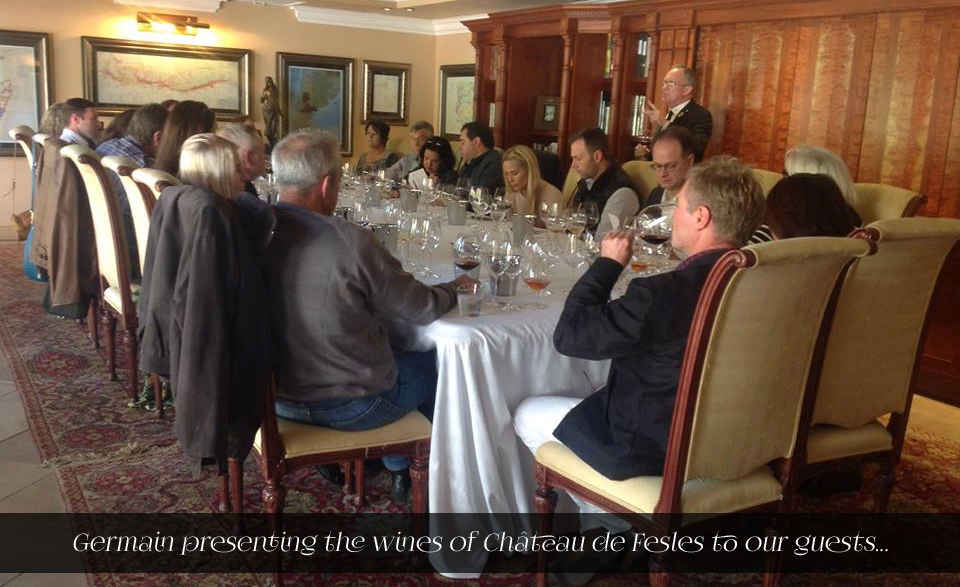 The 2013 had a nose with complex aromas of apricots, peach, quince, spices (vanilla, nutmeg and cinnamon), with citrus orange peel flavours on the palate – a wine that begs you to have another sip. The 1997 demonstrated the ageing potential of this incredible sweet wine, still showing a sparkling yellow colour with a harmonious complexity of fresh fruit (apricots, peaches, quinces) and spices (vanilla, cinnamon and nutmeg) on the nose. Flavours of dried apple, vanilla, peach and honey lingers on the finish.
It was an honour for the Mosaic-team to introduce our guests to these wonderful wines from one of the best winemaking regions in the world!
Santé!
RESTAURANT MOSAIC ONCE AGAIN HONOURED BY
"THE WORLD OF FINE WINE AWARDS" IN LONDON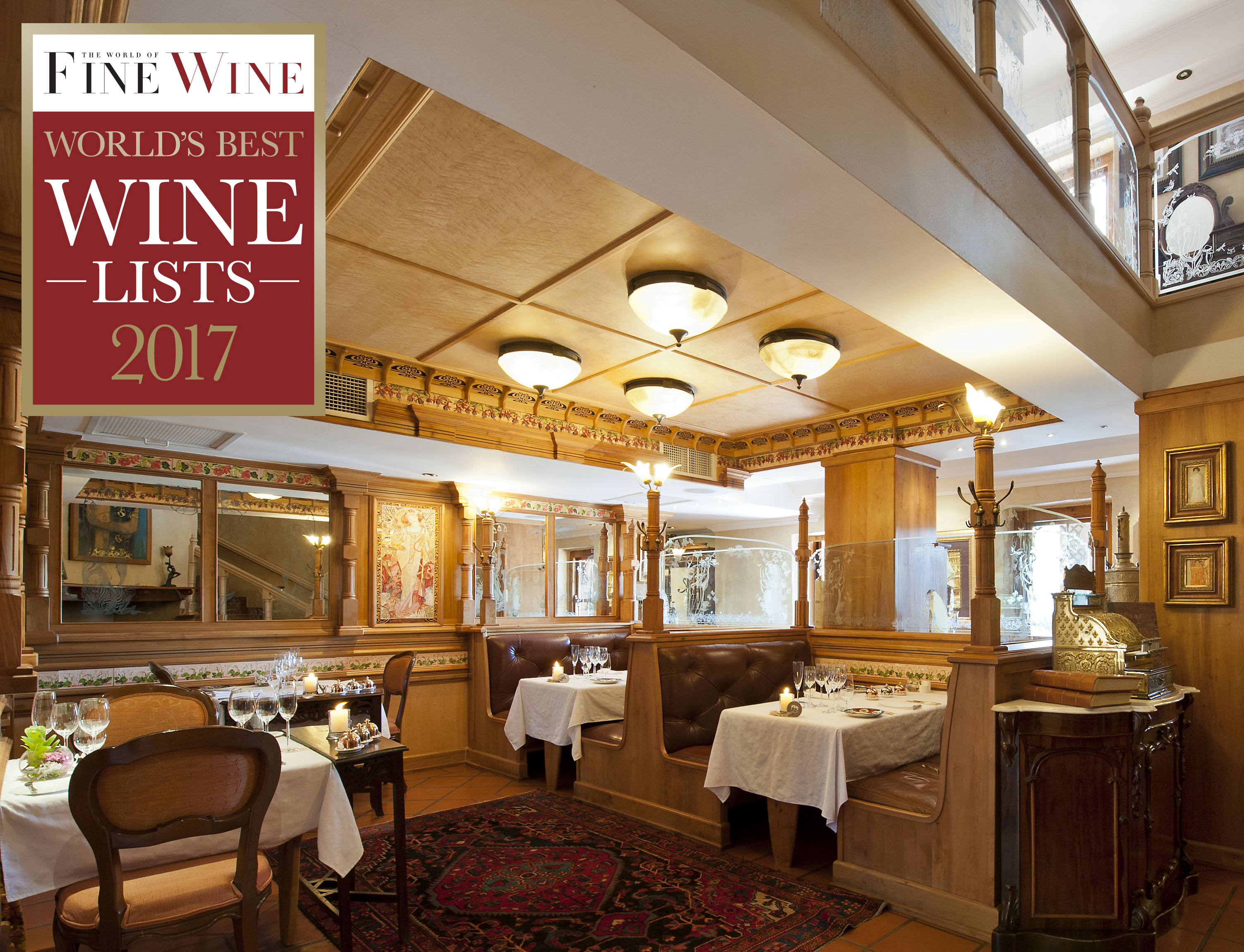 "These are the first awards to acknowledge the importance of a good wine selection in the modern dining experience all over the world. As we were judging, we had in mind Francis Percival's wise words about the difference between 'a great wine list and a mere list with great wines on it,' and we found many that conformed to that idea."
~ Neil Beckett
The World of Fine Wine is known throughout the world for its high editorial standards. So when the decision was taken to launch the World's Best Wine Lists awards, they were anxious to ensure they reached the same levels of quality and rigor as the award-winning journal. Importantly, given the global nature of the awards, the judging panel they formed was genuinely international.
The judging took place over four rounds, beginning with a worldwide search for nominations which culminated in a list of around 4,500 candidate restaurants, in six regions: Asia, Australasia, Europe, the Middle East & Africa, North America, and South America. Judges evaluated the wine lists and just over 800 wine lists were winners of a one, two or three star award – according to World Sommelier Champion Gerard Basset, the awards are, "Rapidly becoming as coveted as Michelin Stars".
Restaurant Mosaic was again awarded a Three-Star Award – described as a great wine list in relation to the judging criteria, and in addition, with exceptional breadth and/or depth in the selection; a very high proportion of leading producers, large and small, old and new, established and emerging; a very good mix of vintages in terms of age, maturity, quality, and style; a wide range of wine styles and prices; outstanding organization and presentation; clear evidence of originality and personality and commitment over the long term, At Mosaic you can see genuine passion, and real vision.
Following the Three Star Award, Mosaic was also awarded the following regional awards as the best in the Middle East and Africa :
Best Wine List
Best Champagne & Sparkling Wine List
Best Dessert & Fortified Wine List
Best By-the-Glass Wine List
Best Long Wine List
LUXURY TRAVEL GUIDE AWARDS
Chantel Dartnall – Chef of the Year 2017!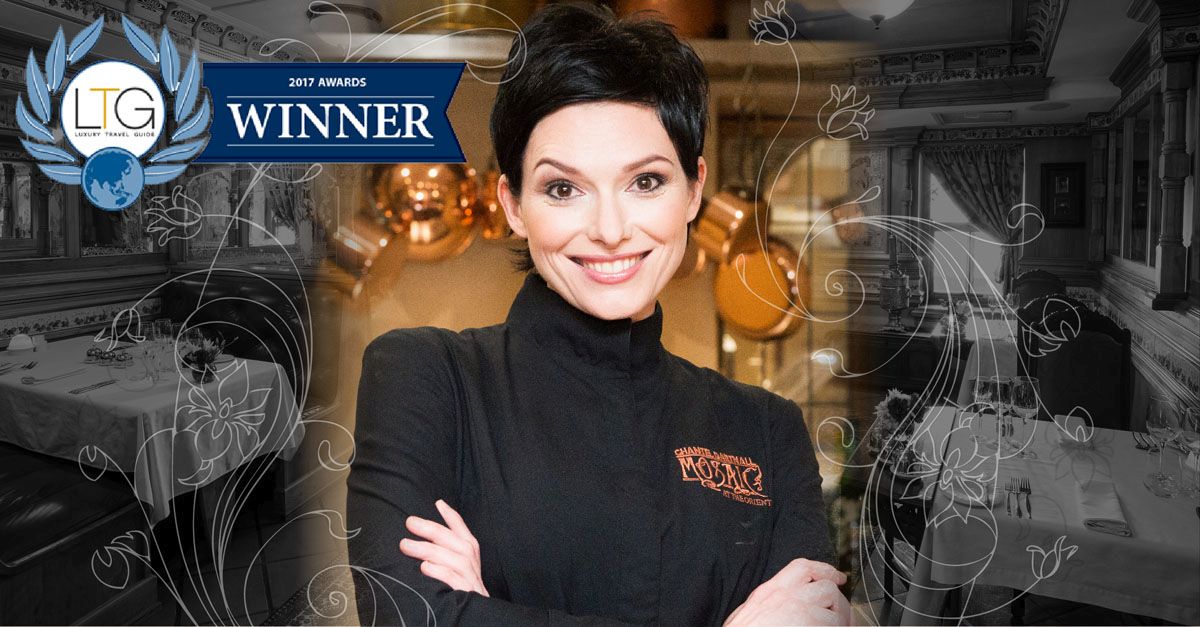 The Luxury Travel Guide awards recognise and celebrate excellence across all sectors of the affluent travel and tourism industry in Europe, The Americas, Asia & Australasia, and Africa & Middle East.
The awards program selects winners based on their achievements and strengths in the travel industry, with all winners subject to the same rigorous assessment criteria carried out by experienced in-house professionals, as well as a number of celebrity guest judges. This ensures that only the most deserving teams, businesses and individuals walk away with one of these prestigious accolades. In 2016 The Orient Private Hotel was mentioned as one of the highlighted properties for the Luxury Travel Awards Africa & Middle East Edition.
This year, we are extremely proud to announce that Restaurant Mosaic's very own Chef Chantel Dartnall was awarded as the Chef of the Year 2017 for Africa & the Middle East.
Congratulations Chef – on winning this prestigious accolade!
OUR TRIPADVISOR STATUS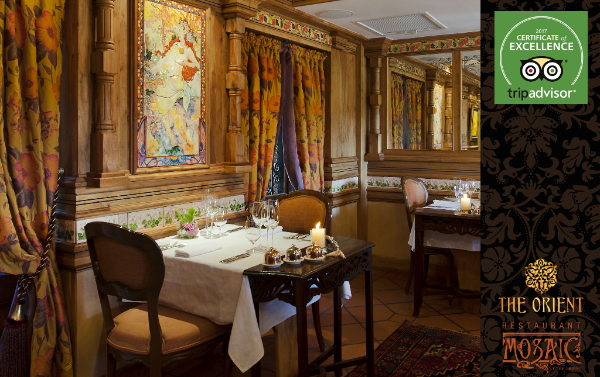 Restaurant Mosaic and The Orient Hotel have been awarded with a TripAdvisor Certificate of Excellence for the 4th consecutive year!
The achievement celebrates hospitality businesses that have earned great traveller reviews on TripAdvisor over the past year, and continually delivered a quality customer experience.
CHANTEL @ HOF VAN CLEVE
Joining forces with Chef Peter Goossens…
Hof van Cleve is widely recognised as one of Belgium's gastronomic greats and is set in an old farmhouse not far from the city of Ghent. Chef Peter Goossens cuisine is all about the perfect balance between classic and contemporary elements and between creativity and intensity. In 1994 he gained a Michelin star and a second in 1998. The restaurant was awarded a third Michelin star in 2005, which it has retained ever since.
Chantel looks forward to visiting this acclaimed restaurant during her annual winter break in July to spend some time with Chef Peter Goossens in his kitchen.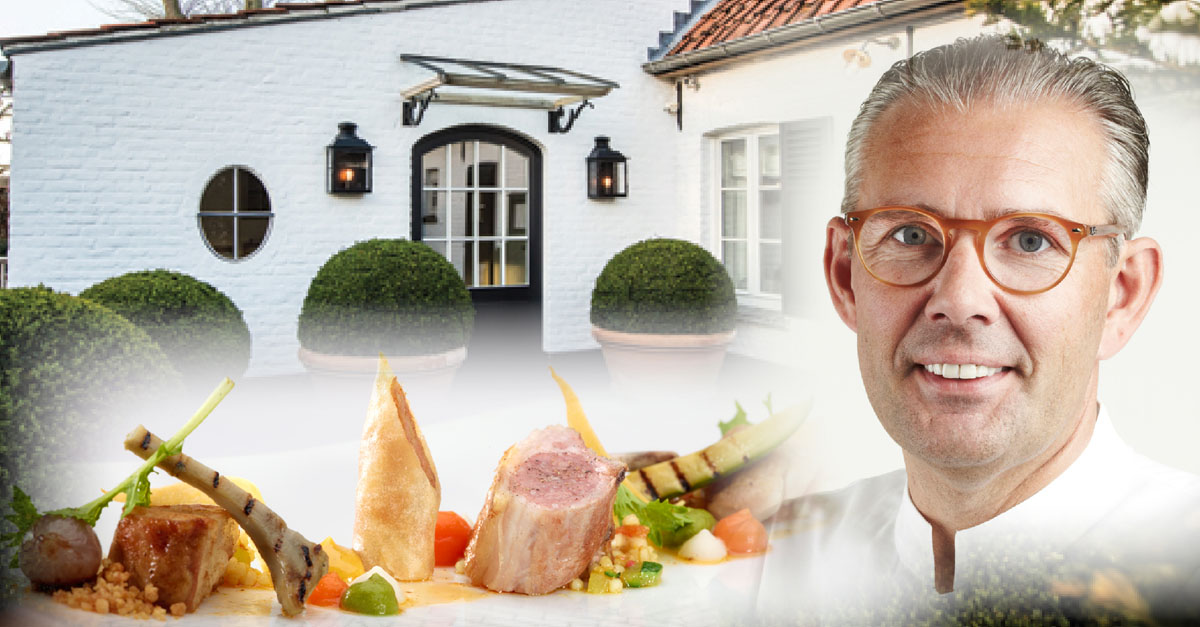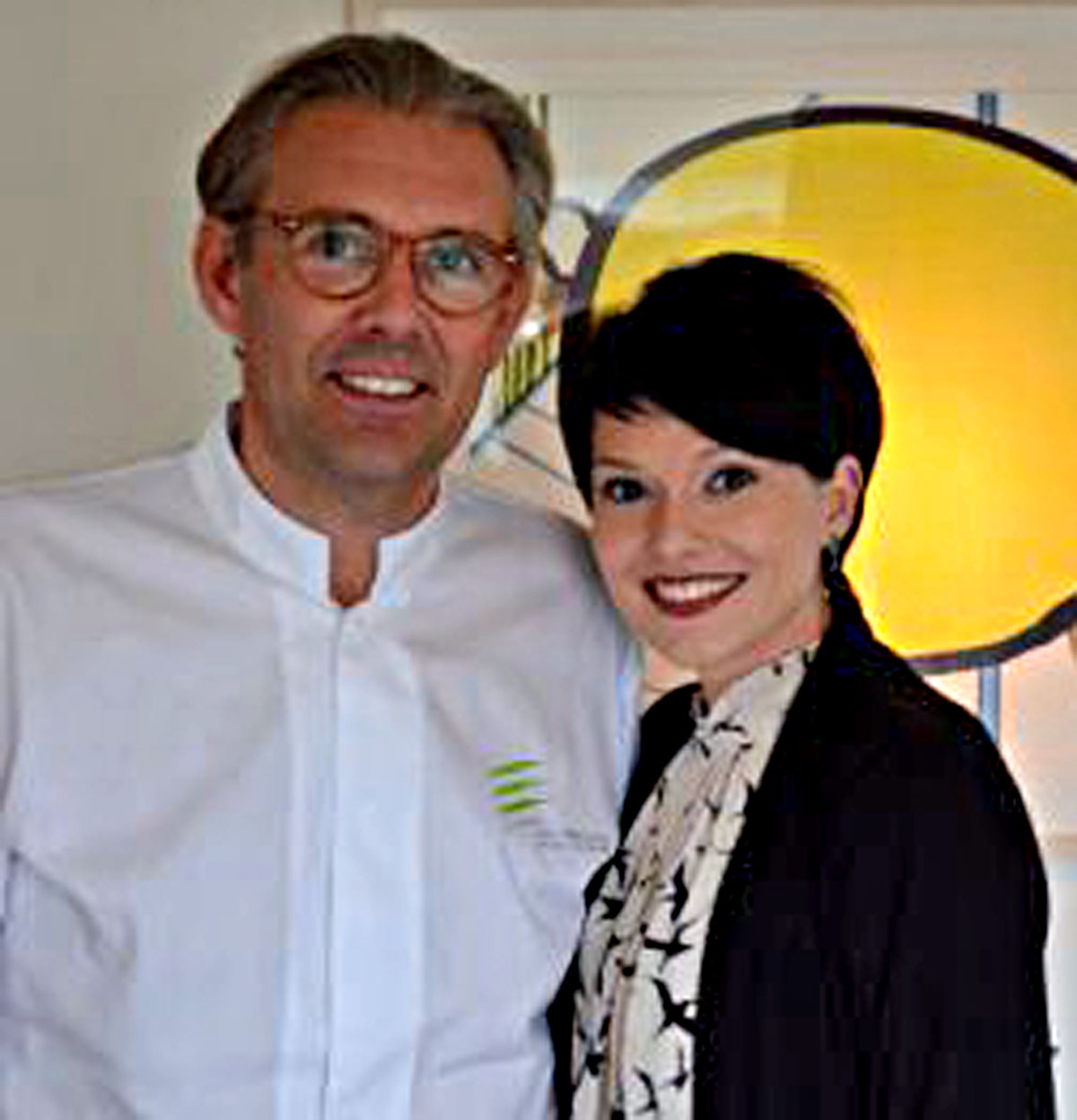 "It is a great privilege to be able to return to restaurant Hof van Cleve, voted as the no.1 Best Restaurant in the World by S.Pellegrino in 2016 and this time not only to dine but to spend a few days with Chef Peter Goossens in his kitchen.
I first met Chef Peter in 2013 at his restaurant in Kruishoutem when we were traveling through Belgium on our Annual Winter Break. It was an incredible experience to sit down with him and learn more about the philosophy behind his cooking." says Chantal.
A CELEBRATION OF OUR LEADING LADIES WITH CHAMPAGNE!
Women's Day 2017 – 9th August Lunch & Dinner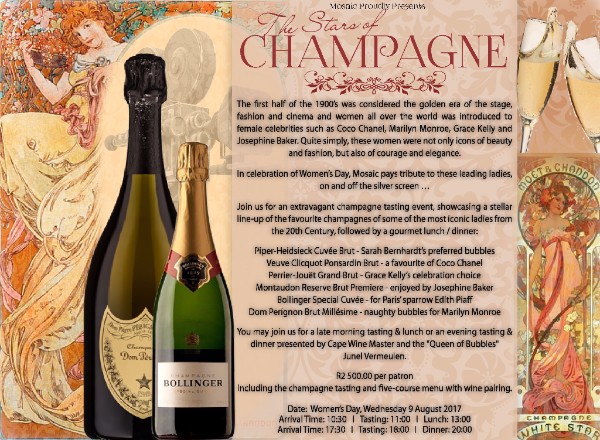 The first half of the 1900's was considered the golden era of the stage, fashion and cinema and women all over the world was introduced to female celebrities such as Coco Chanel, Marilyn Monroe, Grace Kelly and Josephine Baker. Quite simply, these women were not only icons of beauty and fashion, but also of courage and elegance.
In celebration of Women's Day, Mosaic pays tribute to these leading ladies, on and off the silver screen …
Join us for an extravagant champagne tasting event, showcasing a stellar line-up of the favourite champagnes of some of the most iconic ladies from the 20th Century, followed by a gourmet lunch / dinner:
Piper-Heidsieck Cuvée Brut – Sarah Bernhardt's preferred bubbles
Veuve Clicquot Ponsardin Brut – a favourite of Coco Chanel
Perrier-Jouët Grand Brut – Grace Kelly's celebration choice
Montaudon Reserve Brut Premiere – enjoyed by Josephine Baker
Bollinger Special Cuvée – for Paris' sparrow Edith Piaff
Dom Perignon Brut Millésime – naughty bubbles for Marilyn Monroe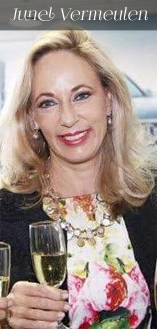 You may join us for a late morning tasting & lunch or an evening tasting & dinner presented by Cape Wine Master and the "Queen of Bubbles" Junel Vermeulen.
R2 500.00 per patron
Including the champagne tasting and five-course menu with wine pairing.
Date: Women's Day, Wednesday 9 August 2017
Arrival Time: 10:30 I Tasting: 11:00 I Lunch: 13:00
Arrival Time: 17:30 I Tasting: 18:00 I Dinner: 20:00
RSVP BEFORE: Monday 31 July 2017
MOSAIC HOSTS A MOVIE MATINEE AFTERNOON
"The Concert"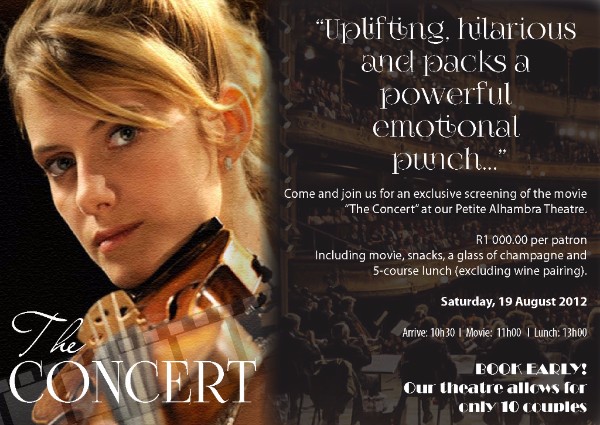 DE KRANS GOURMET TASTING
Proudly South African Port-style Vertical only @ Mosaic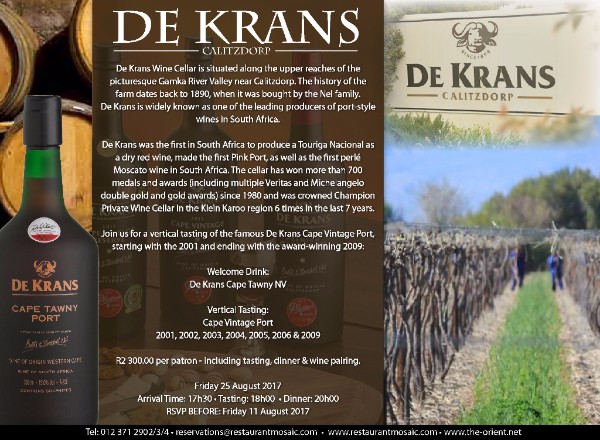 De Krans Wine Cellar is situated along the upper reaches of the picturesque Gamka River Valley near Calitzdorp. The history of the farm dates back to 1890, when it was bought by the Nel family. De Krans is widely known as one of the leading producers of port-style wines in South Africa.
De Krans was the first in South Africa to produce a Touriga Nacional as a dry red wine, made the first Pink Port, as well as the first perlé Moscato wine in South Africa. The cellar has won more than 700 medals and awards (including multiple Veritas and Michelangelo double gold and gold awards) since 1980 and was crowned Champion Private Wine Cellar in the Klein Karoo region 6 times in the last 7 years.
Join us for a vertical tasting of the famous De Krans Cape Vintage Port, starting with the 2001 and ending with the award-winning 2009:
Welcome Drink:
De Krans Cape Tawny NV
Vertical Tasting:
Cape Vintage Port
2001, 2002, 2003, 2004, 2005, 2006 & 2009
R2 300.00 per patron – including tasting, dinner & wine pairing.
Friday 25 August 2017
Arrival Time: 17h30 • Tasting: 18h00 • Dinner: 20h00
RSVP BEFORE: Friday 11 August 2017
ART @ MOSAIC
"We are the sum of our experience and all who have preceded us, and our commitment embraces an approach implying that life and work are indivisible."
~ David Schlapobersky & Felicity Potter

David Schlapobersky and Felicity Potter: South African Studio Potters working together in the tradition of high temperature, reduction-fired pottery (stoneware and porcelain) since 1973.
"Our move to Swellendam in 1996 was a natural extension of our life together, which has always involved the care of James, Felicity's oldest son who was injured in a motor accident as a child. The rhythm of James' needs, of the making and firing of pots, and tending the garden, are part of a life cycle whose integrity we trust, is reflected in our work.
The house and property, Bukkenburg, located in the heart of the old part of the town, was built more than 120 years ago in the Cape Victorian style. Our renovations and developments are intended to create an environment in which family, friends and visitors find themselves welcome.
Our pursuit as full time Studio Potters has been so rich and rewarding, and we have so much to be thankful for. We have had the distinct advantage to be able to work at home while at the same time being able to care for James, and find ourselves through our work to be connected to so many and so much, through such an essential and timeless tradition."
~ David Schlapobersky and Felicity Potter
The Mosaic Team is proud to be associated with these incredibly talented and humble artists… the new additions to our growing collection is not only beautiful but soulful and perfectly suited to the romanticism and old-world charm that surrounds Mosaic…
FUTURE DATES FOR 2017
Wednesday, 9 August 2017
Women's Day Celebrations – Champagne Tasting & Lunch or Dinner
Saturday, 19 August 2017
Movie Matinee Afternoon – The Concert
Friday, 25 August 2017
De Krans Gourmet Tasting & Dinner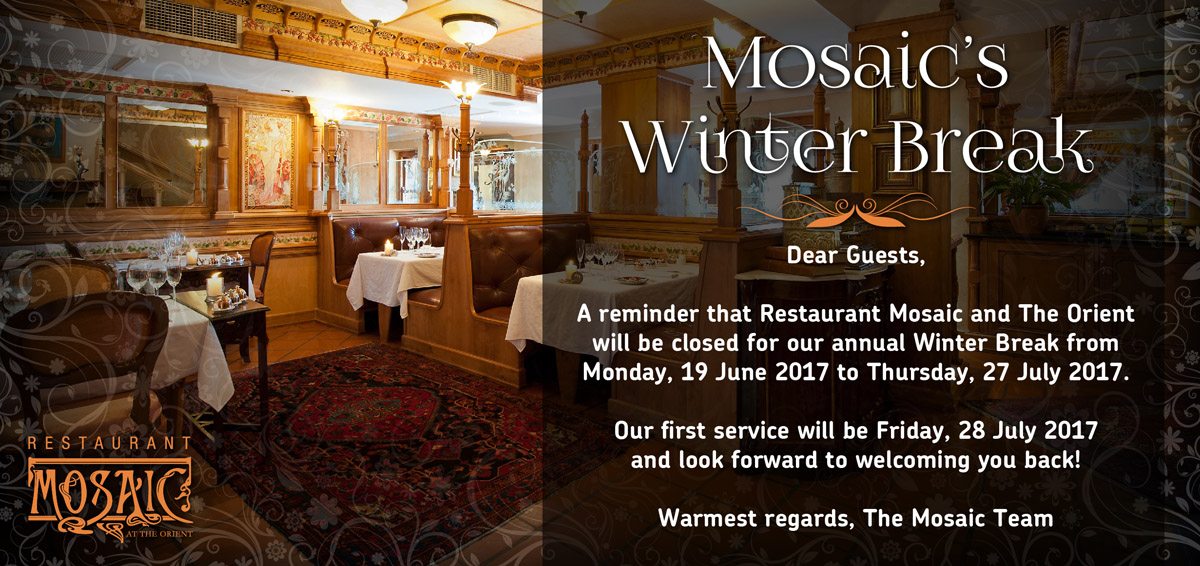 Warmest regards,
Chantel, Mari, Germain and the Mosaic Team