SUCCESSFUL MOSAIC VISIT TO FRANCE
It has been an exciting month for Mosaic and Chef Chantel Dartnall. She successfully prepared a four-course feast for a host of French and International Luminaries at Château Bellefont-Belcier in Saint-Emilion with Michelin star Chef François Adamski of Le Gabriel in Bordeaux. In 2001 he won the Bocuse d'Or cooking competition and is currently president of the Bocuse d'Or French Academy.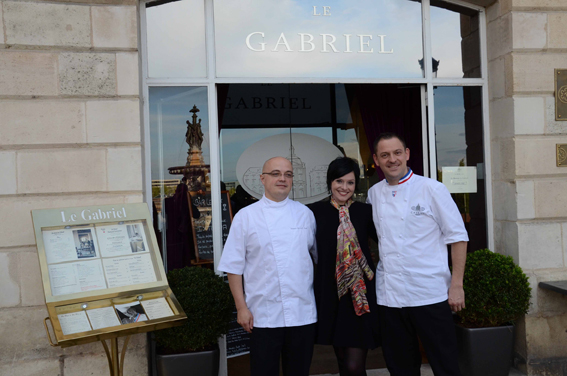 Chantel's menu showcased some true South African flavours which included a delicate herb panna cotta served with white anchovies and marinated fennel; a west coast rock lobster and kabeljou mousse with star anise scented bisque; deboned quail with raw acacia honey and bugu sauce. As the finale, a marula scented chocolate torte accompanied by rooibos and nectarine sorbet.
The evening was a triumph. The Star's cookery expert Angela Day, aka Jenny Kay, was also present so look out for her reports in Independent newspapers soon.
RENOWNED CAPE WINE MASTER JUNEL VERMEULEN JOINS MOSAIC AS SOMMELIER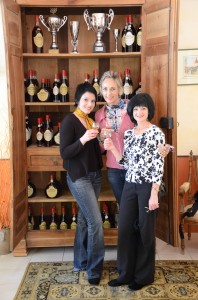 Chantel, Junel and Mari Tasting Armagnac…delighted to say it will soon be available at Restaurant Mosaic!
We are delighted to announce that Cape Wine Master Junel Vermeulen has officially joined the Mosaic team as the restaurant's sommelier.
We asked her what makes the Mosaic wine list so special.
"The wine list is one of the most extensive in South Africa, representing top wines out of our six regions. It includes a variety of ports and older vintages at a reasonable price. The list includes a few rare International and local wines."
 These include:
Vega Sicilia Cosecha "Unico" Ribera del Duero 2000
Salon Champagne Vintage 1999
Marc Bredif Vouvray Grande Année Rochecorbon 1986
Domaine Bonneau du Martray Corton Charlemagne Grand Cru 2007
Domaine De la Romanée Conti Premier Cru
Tokaj Oremus Eszencia
Chateau d'Yquem "Y" 2008
Many Bordeaux first to fifth growths
Iona Viognier limited release
McNaught & Walker Sauvignon Blanc 2010
Constantia Glen Noble Late Harvest
KWV 1935 Muskadel
Klein Constantia Estate Blanc de Blanc 1987
CHÂTEAU D'YQUEM VERTICAL TASTING
Mosaic will be hosting a very exclusive vertical tasting of D'Yquem Sauternes ranging from 1982 to 2008 on Sunday, June 29 presented by Debi van Flymen. Château d'Yquem is a Premier Cru Supérieur wine from the Sauternes, Gironde region in the southern part of the Bordeaux vineyards known as Graves. In the Bordeaux Wine Official Classification of 1855, Château d'Yquem was the only Sauternes given this rating. Wines from Château d'Yquem are characterised by their complexity, concentration and sweetness while a relatively high acidity helps to balance the wine's sweetness. Another characteristic for which Château d'Yquem wines are known is their longevity.
 MR CABERNET SAUVIGNON VISITS MOSAIC
Etienne le Riche (widely known as Mr Cabernet Sauvignon in South Africa and member of the Cape Winemakers Guild) launched his long awaited and latest vintage of Cabernet Sauvignon Reserve 2009 at Restaurant Mosaic – a first for Gauteng.  Chantel prepared a special meal and some of the courses featured were Trio of Impala, deboned Quail and Trout Confit, for this occasion and the evening was a great success.
MOSAIC'S NEW WINTER MENU
The restaurant's new winter menu has now been launched. Food critics from some of the country's leading publications were among our first guests to try the menu and were generous with their praise. They could not agree on what they thought was their best dish but all agreed that Chantel and her team have outdone themselves. We will post their reviews in future editions of this newsletter. Watch this space.
ART EXHIBITION
Don't miss Mosaic's recently opened art exhibition; New Acquisitions representing a range of South African artists including Terrance McCaw, Adriaan Boshoff, Dorothy Kay, William Timlin,  Gwelo Goodman and Titta Fasciotti.
MOSAIC IN THE NEWS
We've been in a number of publications recently. Click here to see articles.
Warmest Mosaic regards
Mari, Chantel and Junel