What does sturgeon, an Armagnac made in 1900, caviar from Aquitaine and an Oompah band have in common? They were all part of spending an unforgettable afternoon with local wine makers in the small scenic village of Montreal in Armagnac at Bernard's restaurant.
After Mosaic's participation at the successful Bordeaux Taste Exclusive held at Chateau Bellefont-Belcier on Thursday, Monsieur Dominique Hebrand invited the team to explore and sample some of the rarest Armagnac in France.
Our host, Huge (pronounced Ugg), met us at this quaint restaurant operated by Chef Bernard and his wife. That was when all the fun started and, as we sat down in the almost empty restaurant, winemakers and locals started pouring in – bottles in hand – all to come and introduce us to the very (VERY!) unique wines of this mostly unknown region.
One rather eccentric winemaker, we shall call him Dominique, was first to present his 7002 vintage.
No, this is not a mistake – it is the 7002 vintage.  And no, you did not do a bit of time travel during the last sentence. It is because Dominique's wines are not AOC and he had to be innovative concerning his blending and labeling… (Be sure to look out for the arrival of these wines in our cellar soon).
Wine upon wine followed and so did the food, with Chef Bernard ensuring that from beginning to end, we were spoiled with home smoked salmon, foie-gras, pan seared sturgeon, caviar from Aquitaine and the piece de la resistance – his famous and finger-licking slow roasted succulent leg of pork.
We were in the middle of what seemed to be a medieval banquet with locals coming and going – a steady stream of clearly close friends exchanging kisses, with laughter and banter filling the room. A few (apparently the local rugby club) brought musical instruments and started playing merely. It wasn't long before the whole restaurant was singing and dancing – even Mari and I were unceremoniously plucked from our table and sashayed across the room.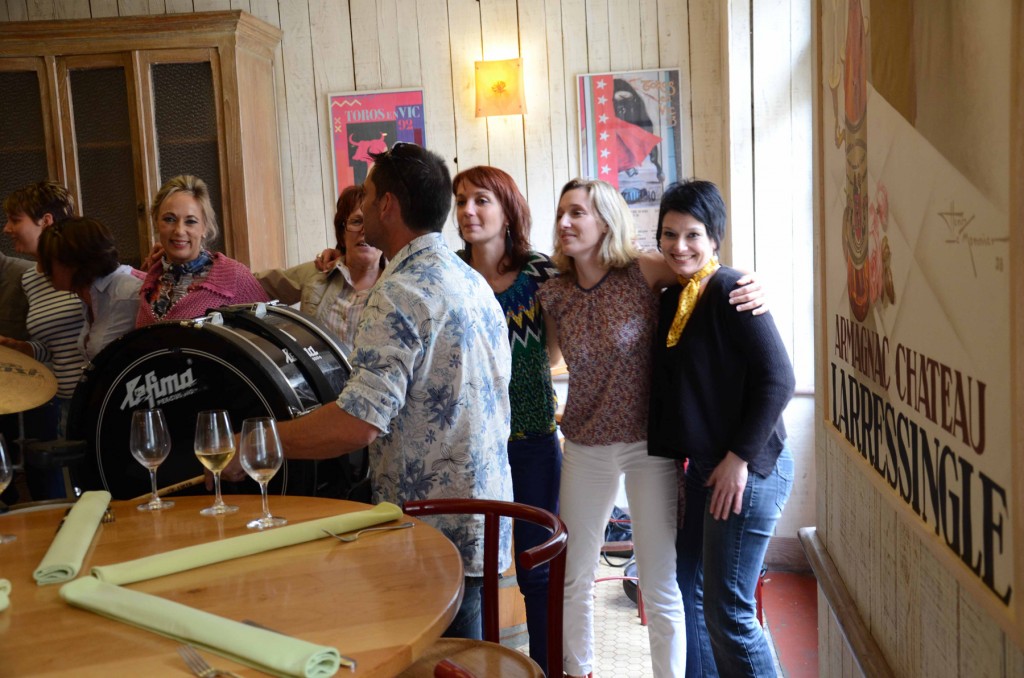 To restore our sense of propriety, our very generous host Huge opened some of the local Armagnac. We sampled the different aged Samalens – 8, 12 and 15 years old that were truly superb!  But again, the best was kept for last when the 21 year old was presented. Just as I had thought the afternoon could not get any better with the Oompah band now in full swing, Huge presented us with his 112 year old Armagnac – the 1900 Samalens. I thought I had died and gone to Oenophile heaven…